Ladbrokes fined after Social Responsibility Failure
Ladbrokes has been fined by the UK Gambling Commission (UKGC) after failing to follow social responsibility codes. Two problem gamblers at their online gambling site, Gala Interactive, were allowed to wager stolen funds on the site. Ladbrokes failed to recognise the problem behaviours by both gamblers, who spent over £1.3 million (±NZ$2.4 million) on the site.
As a result, the gambling operator has been fined £2.3 million (±NZ$4.3 million) by the regulator. One gambler was found to have stolen money from their employer and was sentenced to four years in prison. The second was sentenced to four and a half years for 'acquiring, using, or possessing criminal property.' Both players had been losing massive sums on the site without Ladbrokes intervening.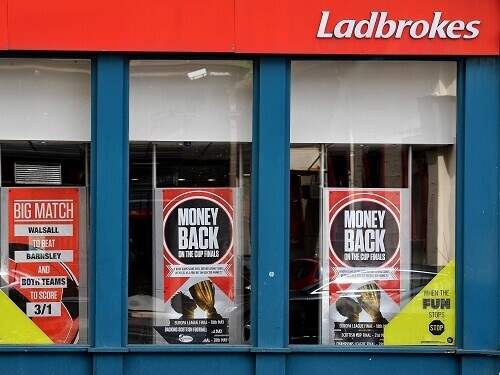 Social Responsibility in the UK
This will not be the first time that the UK Gambling Commission has fined an online casino operator. In April, BGO Entertainment was fined for not following the same codes. In that case, they had promoted misleading ads for claiming a bonus. However, in the UK, operators are expected to advertise wagering and other requirements for claiming bonuses.
The total fine for 23 violations in 2015 was £6.9 million (±NZ$13.3 million) after an investigation by the UKGC. Gala Interactive was investigated by the UKGC, and the results of the investigation were startling. According to reports, Gala Interactive had no safeguards in place to detect problem gambling. More so, they also had no written policies and procedures to require employees to step in. Also, this was not the first time Gala had been reprimanded by the UKGC for failing to protect gamblers.
Ladbrokes Problem Gambling
A similar case prior to this year found the same failures by Ladbrokes. Gala had promised that they would identify problem gamblers and handle the situation. However, the case at the moment proves that they had not kept their agreement. Ladbrokes will need to pay the £1.3 million (±NZ$2.4 million) to those affected by the problem gamblers.
Added to this, they will also need to pay £1 million (±NZ$1.9 million) to fund problem gambling research. A further £200 000 (±NZ$377 000) will have to be paid outright towards the research as 'a show of good faith.' This figure pales in comparison to another crackdown on 888, where the casino operator was fined £7.8 million (±NZ$14.7 million) for allowing self-excluded gamblers to bet on bingo.
If you feel at risk of problem gambling, or know someone who is, please seek help. New Zealand has some of the best gambling support in the world. Contact any of the below organisations for help or counselling.
Problem Gambling Foundation