MGM Resorts Releases Audio from Las Vegas Shooting
It has been over 30 days since the Mandalay Bay hotel shooting which injured 91 people and killed 58 attending the Route 91 Harvest country music festival. Since then, authorities have been investigating the events that led to the tragedy. The shooter, Stephen Paddock, was staying on the 32nd floor of the MGM Resorts property during the October 1st tragedy.
Mr Paddock shot an unarmed security guard, Jesus Campos, as well as festival goers. This week, the audio clip from Mr Campos' report of the shots was released. According to reports, he sounded calm in the clip, as if he was reporting 'the most mundane of events.' Despite the release, there is still no motive for the shooting, according to the FBI and investigators.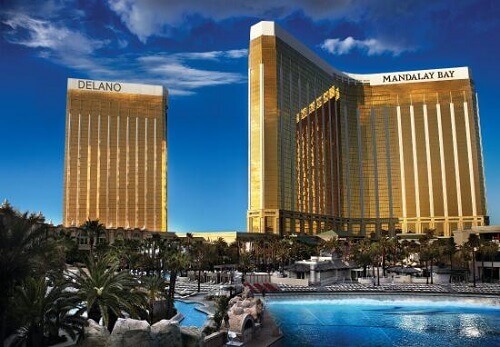 MGM Resorts Investigation
The Mandalay Bay Resort and Casino is owned and operated by MGM Resorts International. It is located in Paradise, Nevada. Paradise is home to the majority of the Las Vegas strip, but is an 'unincorporated town.' Every year, the Route 91 Harvest festival is hosted at the Las Vegas Village in Paradise. As such, the plot is situated diagonally from the Mandalay Bay.
The shooter, Mr Paddock, used rifles to cover the distance between his hotel room and the festival. Ten rifles were found in his hotel room, where he had broken two windows. Around 23 guns were found with him, while a further 19 were discovered in his home. Despite terrorist claims for his motive, there are no indications as to why Paddock had shot at festival goers.
MGM Resorts Timeline
Upon releasing the audio clip from Mr Campos, there were still conflicting reports about the timeline of the shooting. However, authorities and MGM have confirmed the details of the shooting. Mr Campos had been investigating a barricaded door on the floor, but had to go around. He reported the block at 09:59pm, but only arrived at Paddock's door by 10:06pm. He was shot through the door in the leg by Paddock. Mr Paddock fired shots for ten minutes until he committed suicide shortly after his attack.
Mr Campos has been silent on the shooting, except for an appearance on a daytime talk show with Ellen DeGeneres. It was his first and last interview, though reporters have been camping out at his home. Campos has been staying at an unnamed MGM Resorts location for his protection while he heals, according to the company. However, legal teams for the victims claim that he will be influenced by MGM before the court case. Mr Campos will be the star witness for the case when it goes to trial.