Miss Universe Winner for 2017 – New Zealand 2017
The odds were in Miss South Africa's favour on Sunday night in Las Vegas, when she was crowned Miss Universe. This is the first time that a South African finalist has held the crown since 1978. Odds for the Miss Universe winner were stacked in Demi-Leigh Nel-Peters' favour for the win. Paddy Power had her at four to one, while Bovada projected her odds at nine to two.
The Miss Universe winner went up against 91 other entrants for the crown, but made it into the Top 16 on Sunday night. As such, the 16 contestants were from Thailand, Sri Lanka, Ghana, South Africa, Canada, Philippines, Spain, Ireland, USA, Brazil, Venezuela, Jamaica Croatia, Great Britain, Colombia, and China. Payouts for the event have not yet been announced, but it's likely that many bettors took the favourable Paddy Power odds for Miss South Africa.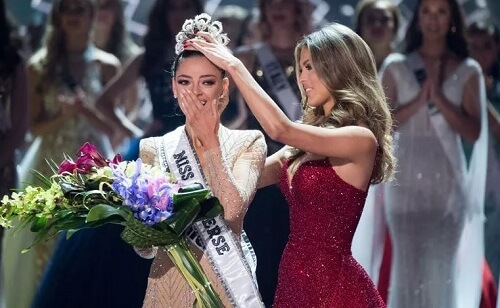 Miss Universe Finalist Competition
The night began with a swimsuit competition for the Top 16 finalists, where the judges made their choices for the next round. Next, the pool was narrowed down to a Top 10. Finalists for the Top 10 included:
South Africa
Canada
The Philippines
Spain
Brazil
Colombia
Thailand
Jamaica
Venezuela
United States
After the Top 10 were announced, they walked the stage to Fergie's 'A Little Work' in evening gowns. Of course, this was not the end for the finalists, who were further narrowed down to the Top 5. Venezuela, Colombia, Jamaica, Thailand and South Africa made it through to the next round where they answered the final question. Finalists gave their opinions about topics ranging from terrorism to sexual assault to social media.
Miss Universe Top 3
Finally, the Top 3 entrants from South Africa, Jamaica and Colombia went through.' They were asked which quality they were proudest of and how they could use it as Miss Universe. Nel-Peters was an obvious favourite for the judges during the competition.
During her final round, Miss South Africa described her experience of an attempted carjacking and how she fought back. She went on to say that her experience had motivated her to help other women and speak up about issues like equal pay. Their final pageant looks were accompanied by Rachel Platten, who performed her song 'Broken Glass' before the winning finalist was announced.
Demi-Leigh Nel-Peters was finally crowned, with no gaffes from Steve Harvey. Check your bets online and keep visiting NZ Casinos for the latest gambling news.