Poker Tips New Zealand
Many New Zealand players are interested in finding some good poker tips. With the online version of the game being somewhat different to the offline version of the game, it is unsurprising that so many avid NZ poker players are looking for tips on how to play the famous table game better online.
The good news is that there are loads of tips and tricks that can make playing online a profitable experience.
In fact, playing online can be much better for your wallet than playing at a land-based casino. The reason being that the standard of online play is generally somewhat lower than that which is seen at real-world tournaments.
In order to help our players, we have created this all-inclusive poker tips guide filled with helpful smidgens of information that will help improve your game. We also included a list of the best poker casino sites in New Zealand. So, read on and improve your poker game now!
Best Poker Casino Sites
Top Poker Tips
Below are some of the best poker tips you'll come across in the online space. We suggest that New Zealand players read through them thoroughly and truly consider the impacts each tip may have on their game.
Start with Low-Stakes Poker Games – while this may seem like an unalluring prospect, playing low-stakes games is a good way to get used to playing this casino game online without risking large amounts of cash. The other good thing about this is that if you go on a losing streak, you won't really have to worry about how much cash you lost.
Start with Single Table Games – again, the idea behind this is to get used to playing online before acting like a pro. Start with a single table game and then move towards playing games with multiple tables, or even having multiple different games open at once.
Play in a Distraction Free Environment – if you are going to make the best possible plays, you are going to need to concentrate. This often means playing in an environment that is distraction free. For example, you don't want to be trying to watch a television series while you're playing. All that will happen is that you'll land up concentrating more on one of the two activities. Then you'll make mistakes in the other or even both.
Expect the Unexpected – in saying this, we mean that poker, especially tournaments, tends to feature crazy swings. Players will often try to call your bluff by going all in, even with a set of terrible cards. This makes games harder to predict.
Don't Focus on Balanced Style of Play – this strategy may be good for tournaments where all players are pretty good. However, it definitely isn't the norm for poker games.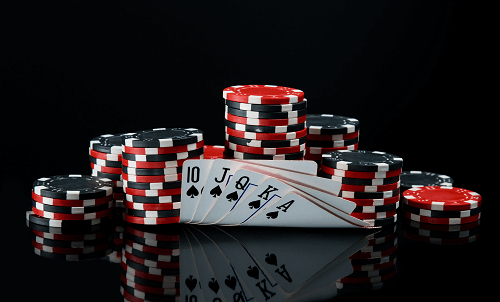 Get More Poker Tips Here
If you're looking for some more good poker tips, be sure to have a look through NewZealandCasinos.co.nz. We have a load of good tips throughout our site that are sure to improve your online game. We'd recommend starting with our how to play poker guide, along with our many poker game specific guides. After reading these, players are sure to improve their game and win more real money prizes.
More Poker Guides