Kevin Hart joins up with PokerStars to 'Make Poker Fun'
PokerStars, a leading poker game provider with International tournaments all over, hopes to change the face of poker this year. Kevin Hart, who recently took part in the Monte Carlo Bay Casino Poker Championships, is partnering with PokerStars to make this happen. The comedian will be working with the poker giant to promote their brand and bring fun to poker. Hart held a press conference in Monaco at the end of April to announce his new partnership agreement.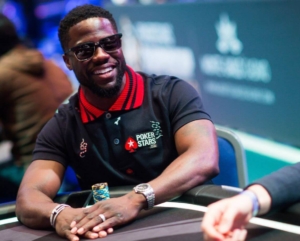 PokerStars' Announcement
The comedian called on a member of Team PokerStars Pro, Daniel Negreanu, to announce his plans going forward. Hart will be using PokerStars as a poker platform to 'rebrand' the game as fun. He is also quoted as saying that he is grateful for pro players in the game of poker. So he can compete with them and 'take their money.'
According to Hart, the best part of poker is that 'anyone can play it,' whether professionally or at a 'kitchen table for fun.' The movie star was keeping mum on how he intends to carry out his plans, but that he had some 'great ideas to bring poker to the people.' After all, his career is built on having fun and a laugh, something many Kiwi gamblers can relate to.
Going forward with PokerStars
Part of his plans to change the face of poker includes using PokerStars' marketing and live poker events. Hart also wants to use his social media accounts to promote the social and financial aspects of poker. PokerStars is owned by the Amaya Gaming Company, an Internet gambling giant based in Canada. Speculation on the deal by Vice President of Corporate Communications for Amaya, Eric Hollreiser seemed confident after the announcement. According to Hollreiser, PokerStars take poker seriously as it 'is their business.' While Kevin Hart takes making things fun seriously 'because that is his business.'
Kevin Hart is expected to tap new audiences for PokerStars while having a great time in the next few months. Hollreiser also called Hart a 'maverick' whom PokerStars are thrilled to be working with. Until then, we at New Zealand Casinos are looking forward to watching the process unfold.