How to Play Sic Bo
Sic Bo is popular casino game that is played with three dice. It is fairly easy to grasp the concept of the game. We have compiled this guide for Kiwi players who are new to internet gambling. There are plenty of bets that punters can place in this game. We will briefly introduce punters to each of these bets. Playing Sic Bo for real money will require that you read our guide. We understand that picking the perfect casino site can be daunting. So, we've taken it upon ourselves to assist you with finding a reputable gambling site.
Playing Sic Bo at an internet casino has plenty of benefits attached to it, unlike playing at a land-based casino. In this guide, we will be detailing how to play Sic Bo at web-based gambling sites. We will also take you through some of the best New Zealand casino sites.
So, we mentioned that playing at internet casino sites offers punters some great benefits. Firstly, there are plenty of bonuses and promotions that become available once you sign up. Secondly, it is convenient because you can play at any time and on any compatible device. So, you don't have to leave your house to enjoy a game of Sic Bo.
Play Sic Bo at top NZ Casinos
Understanding Sic Bo
So, whether you are learning online Sic Bo for the first time or you want to better your skills, it's always great to go back to the basics. Now, there are two important aspects of the game that you need to familiarise yourself with. You have to learn the betting board as well as the dice. In a nutshell, your job is to predict the exact number that will come up when the dice are rolled.
There is a difference in payouts depending on the bet you have placed. Punters can place bets on more than one outcome once the dice has been rolled. Below, we have listed some of the bets that you can place while enjoying a game of Sic Bo.
Single Bets
In this case, you are simply betting on one number to appear on one of the three dice that you will role. While playing at a gambling site, all you need to do is click on the 'roll' button.
Double Bets
The double bet is Similar to the single bet, however, you are betting on one number that will appear on two out of the three dice.
Triple Bets
With this betting option, you are wagering on one number to appear in all three dice. Because it is a considerably sizeable risk the payout is quite high, should you win.
Totals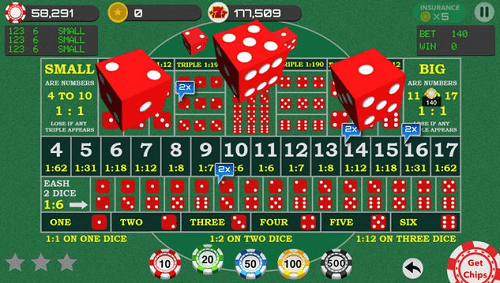 The player, in this case, is given the chance to place a bet on the total number that will appear, which is made up of outcomes of all three dice. Your options are between 4 and 16. The numbers 3 which appear on the dice and 18 are not a part of this bet.
Sic Bo Tips That Actually Work
Now, we will help you outline a few tips for playing Sic Bo at top casino sites. Our tips will help you formulate a strategy that continuously increases your odds of winning.
Sign up with a reputable casino.
Check for the bonuses before signing up.
Practice playing the game by playing for free before playing Sic Bo for real money.
Manage your money when playing the game. One of the ways to do this is by checking the payout of each bet you place before you place it.
Stay away from bets that carry a higher house edge.
By learning Sic Bo strategies you increase your chances of placing bets that will be considered successful. Visit our recommended sites and sign up with anyone that best suits your preferences.
Check Out Other Sic Bo Guides: