Play Online Baccarat Real Money
When the cards are dealt, and you're staring at a James Bond villain, then you're probably playing online baccarat. This online casino game has been a staple at Las Vegas casinos for half a century, and for a good reason.
We've compiled this guide to get you started with the basic rules, strategies, card rankings, and everything else you need to know. Plus, the premium casinos offering baccarat online exclusive bonuses to boost your bankroll.
Online Baccarat for Real Money: Casinos List
Baccarat Online Rules
Typically, you'll find that the games will use six or eight decks of cards in the shoe. These will be properly reshuffled after every round to ensure everything is completely random and fair. The participants in the round are limited to three cards in their hand.
When the game begins, the player will be dealt their cards first. Initially, players will be dealt two cards, but if the value of their hand is between 0 and five, they'll get a third card. Next, the banker will be dealt their hand and will stand if the value is 7, 8, or 9. Whether the banker draws a third card or not is determined by the following rules:
Drawing Rules
One of the things that makes Baccarat quite easy to play is that once bets are placed and the round starts, everything is determined by set rules. This means that the Dealer/Banker won't consult the player, and the player won't have to make any decisions.
As we've mentioned, the highest valued hand that anyone can have is nine. If you manage to get 9 with just two cards, this is an instant win and is known as a natural. If you have two cards with a value of 8, this is also called a natural and is the second-best hand you can get. The basic rules are as follows:
If the player or banker have a hand with a value of 8 or 9, they both stand.
Should the players hand total 6 or 7, the player stands.
If the player is standing, the banker will be required to hit if they have a hand with a value of five or less.
The player will be given a third card if their hand has a value of 5 or less.
If the player is given a third card, the following rules will then be applied to the banker to determine if the banker draws another card.
Third Card Rules
| | |
| --- | --- |
| Banker's hand value | Banker's Action |
| 2 or less | Banker will be dealt a third card |
| 3 | Banker will draw if the player's card had a value of 1, 2, 3, 4, 5, 6, 7, 9, 0. If the value was 8, the dealer will not take a third card. |
| 4 | Banker will draw if the player's card had a value of 2, 3, 4, 5, 6, 7 |
| 5 | Banker will draw card if the player's card had a value of 4, 5, 6, 7 |
| 6 | Banker will draw a third card if the player's third card had a value of 6 or 7 |
| 7 | The Banker will Stand |
Use the chart below to decide when to hit or stand.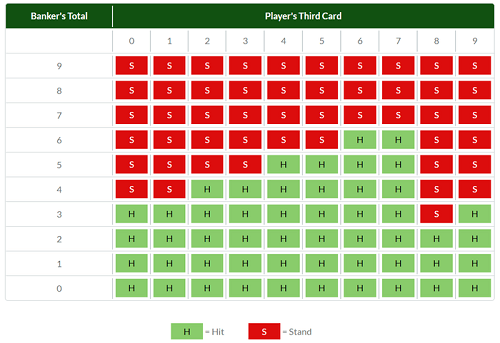 Online Baccarat Strategy – Best Ways to Win
If you're looking to increase your chances of winning, you might be excited to go and learn some thrilling new Baccarat strategies that promise to make you rich. While Baccarat is mainly about chance and things are out of the player's control, a good strategy might help you keep more of your money. Although it might not necessarily help you win more often.
Positive Progressions
Using a positive progression betting system means increasing your stake on a win and decreasing it on a loss. When playing baccarat, this is intended to be less damaging to your budget. However, you will have to watch out for a winning or losing streak. This might cut into your funds more than you think, so we recommend keeping your playing time short.
Negative Progression Strategy
On the other hand are negative progressions, which require you to increase your bet on a loss to win the money back. Then, you'll reduce your stake on a win and keep going until you're met your target. One of the most popular strategies in this category is the Martingale, which doubles your bets in a pattern.
Flat Betting Strategy
Last but not least, is the flat system, which advocates placing the same bet every time. In this tactic, you can place multiple bets with the same value, as long as the odds are 50/50 to win.
How to Play Online Baccarat
Now that we've gone over some information relating to the game, it is time to teach you how to play Baccarat. In some ways, it is similar to Blackjack, as the goal in both games is to get a hand with a value as close as possible to a specific number. In Blackjack, that number is 21, while in Baccarat it is 9.
The other difference is that in Blackjack if you exceed 21 you immediately lose the round. Online Baccarat is different in this regard, as exceeding 9 doesn't mean you lose. The way it works is that if you exceed 9, the value of your hand will have the ten subtracted from it.
So, if your hand has a value of 10, its final value is 0, which is the worst possible result in the game. A hand with a value of 15 is worth 5 and so on.
As for the value of cards in the game, their values are as follows:
Face Cards (10, J, Q, K) : 0
2-9: Face Value
Ace: 1
One of the interesting facts about Baccarat is that the player doesn't have to bet on their hand. The ultimate goal is to bet on the hand you think will get closer to the value 9. If you believe that will be the dealer, or Banker's hand, then you are free to bet on their hand instead of your own.
The good news is that there isn't much of a penalty in doing so either. If you win while betting on the banker's hand, the only drawback is you have to pay a slight commission, usually 5% or less.
Online Baccarat Tips, Tricks & Suggestions
It is always easier to gamble at a casino that accepts your local currency and you want to make sure there are several viable banking options available to you. As for tips and tricks for the game of Baccarat itself, these are some of the things we recommend you do in order to have more fun and, hopefully, stand a better chance of winning.
Know the rules
Always make sure you are familiar with the rules of any new game before you start playing. Read through guides like this one and we also highly recommend you play for free before spending any real money on the game. Almost all reputable online casino sites will allow you to play a free baccarat game, which will give you the chance to try online Baccarat out first. Free play mode ensures that you understand the game.
Understand the odds
Make sure that you understand the odds of winning on each of the bets. As we've mentioned, there are only three bets available. These are betting on the Player or Banker, and a tie bet. It is good to understand what the odds are with regard to each of those and the other side bets.
Less is more
We highly recommend you try to pick a Baccarat game that uses fewer card decks. Some will use six, some will use eight. Generally speaking, you'll have a better prospect of winning if you're busy playing a basic version of the game with fewer decks. However, the betting limits in these games will generally be lower as well.
Bet on the banker
It is also advisable to bet on the banker in many situations. Betting on the Banker gives the casino the smallest house edge and you the best statistical chance to win. The house edge when betting on the banker is around 1.17%, while it is 1.36% when betting on the player's hand.
Avoid betting on a tie
Yes, the payout is 9:1 but ties are very rare and the house edge when betting on a tie is 14.44%.
Play responsibly
As with any gambling, please play responsibly. We suggest setting yourself a budget and sticking to it, while also deciding how long you're going to play. Finally, stay away from alcohol while gambling, it has a tendency to impair judgement and make players make stupid bets.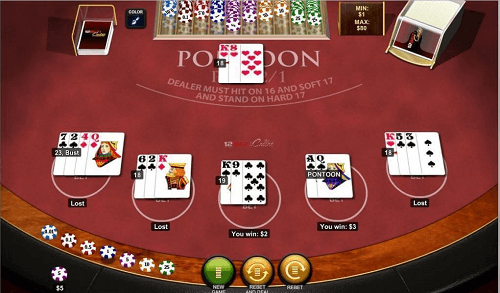 Types of Online Baccarat
When looking for online baccarat versions, you'll come across the following games:
Punto Banco
Chemin de Fer
Mini Baccarat
Baccarat Banque
Baccarat Gold
High Limit
EZ Baccarat
Super6
Online Baccarat Live Dealer
Super Pan 9
Play Baccarat Online Free of Charge
Almost any casino that you can log into will allow you to play free baccarat. This will usually include a few versions of online Baccarat. While playing for free, the game will be exactly the same. The only difference being the fact that you're using imaginary money.
This allows you to try out the game and play for an extended period of time as they study the rules and get more comfortable with Baccarat before spending real money on it. Also, you can test out new strategies without risking your money. Playing for free may lack some of the risk and reward, but it can certainly pay off in the long run.
More Games
Online Baccarat FAQs