Live Keno Games
Playing keno live brings an exciting edge to this popular lottery-style online gambling game. New Zealand keno live players can watch as the balls are drawn in real-time and they immediately get the live keno results NZ. Live online keno is generally found under the speciality games section at a New Zealand internet casino. A live game functions similarly to the standard keno online game. However, there is a slight difference which we'll be discussing below.
Keno is a great game that's all about a light hearted atmosphere and at land-based New Zealand casinos, it's a social game. It's a straight forward lottery type game where you pick numbers and numbers are then drawn. If there are enough matching numbers – also known as hits – you'll be paid NZ$ according to the casino's set paytable. It's a low-risk game, making it less stressful, and has major winning and live-changing jackpot potential if a player has a maximum hit, matching all their Keno numbers.
Play Keno Live at NZ Casinos
What is NZ Live Keno Online?
Live keno online is when, during the drawing part of number draw, a live dealer picks the numbers at random and not a random number generator (RNG). The casino operator will use live streaming to show the draw live in real time and you get the NZ keno results as soon as they come up. Some software developers also add the option of interacting with dealer using a live chat function. NZ players should note that there's a new draw every minute.
Why Should I Play it Live?
Playing it live offers a different dimension to a usually quick game. Furthermore, there's no need to download any software to access and watch keno live online. Having a person drawing the numbers and reading the keno live results adds a more sociable element to what's generally an entirely computer-generated environment.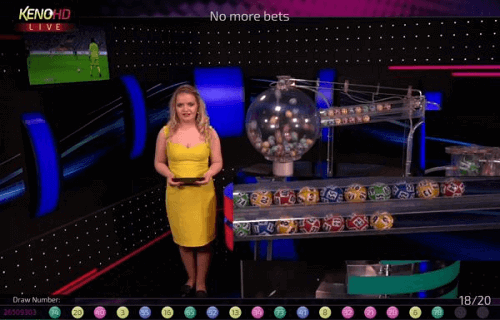 How to Play Live Keno Online NZ
When playing keno live online, the basics are the same:
Kiwi players will get a digital keno card that has eight rows of 10 number (80 numbers in total).
The player marks off between four and a maximum of 20 numbers on their keno card. The more numbers you pick, the higher the potential payout.
Then 20 numbers are picked at random by a live dealer instead of an RNG.
The dealer reads out the number and you check if you have any matches on your virtual keno card.
Lastly, listen out for the dealer announcing when the next draw will be.
Then depending on your keno results NZ – how many numbers you put in a group compared to the number of hits – you'll get paid your NZD.
More Keno Guides