Online Pokie Tournaments List 2023
Recently updated on July 23rd, 2021

Online pokie tournaments offer large prize pools, as long as you're near the top of the leaderboard. Some of our recent favourite tournaments paid $50 000 in prizes, spread across tiers.
Still, the winners walked away with $20 000 in their pockets. So, if you're interested in winning online pokie tournaments, read our guide below.
Best Casino Pokie Tournaments
What is an Online Pokie Tournament?
An online pokie tournament is a competition hosted by multiple casinos and a software provider with a prize. You can enter the tournament by playing selected pokies from the game studio if you bet specific amounts.
These bets then earn you points so that you can move up the tiers to win larger rewards. Tournaments run for a limited time, such as a month or up to three, to give players a chance to win.
How Do Pokie Tournaments Work?
The most common competitions start on the first day of the month, kicking off with a free-for-all on bets. You start at zero points, then whatever you wager and win will contribute to your points.
We recommend avoiding bonuses that aren't directly related to pokie tournaments to avoid breaking the rules. Since these promotions vary, we recommend reading through the terms and conditions before you begin.
Different Types of Pokie Tournaments
Winning tournaments is all about luck, which is true for all pokie machines, to be fair.  Different types of tournaments co-exist in the market. However, the most frequent tournaments you'll find are the buy-in and the scheduled.
Pokie Tournamnet Strategy
While pokie tournaments are fun and you can win a lot, you have to follow the rules closely to get a payout. We've spoken to some pro players who enjoy a challenge and pushing the limits of pokie competitions.
In our opinion, trying to find a strategy that will win every time will waste time and money. It would help if you also avoided any bots or algorithms that would be considered cheating.
With that out of the way, let's get into the best ways to win more money on the games and earn the most points. To improve your winning odds, we advise keeping every payline active and spinning as often as possible.
To do that, you'll need to have a large budget so that you can afford the paylines when you bet the max. While we don't advise it for normal gameplay, your winnings count towards your position. So, you need as much as you can afford to get the big prize.
However, you need to avoid watching the leaderboard like a hawk. Any attention not on the selected pokies could lose you valuable points.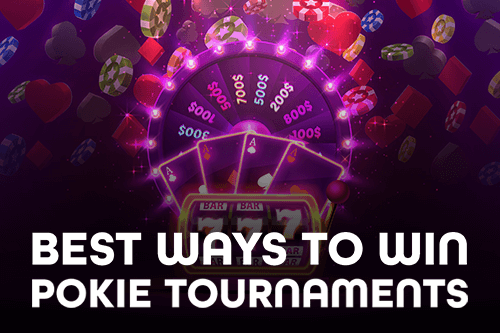 Are Pokie Tournaments Rigged?
While the players in us would like to say yes, it's nearly impossible to skew the outcomes of pokies and tournaments. It might not take skill to play the games, but it takes time to earn enough cash to get the top prize.
Pokie tournaments are somewhat of a gamble. There are more ways than not that you are going to spend more than you won. How much you win is purely up to your luck. That being said, they are nowhere near as rigged as, say, winning the lottery.
If you play the lottery, your odds are in the millions, but pokie tournaments have better winning chances. Still, it would help if you looked for highly-rated casinos licensed and regulated with game studios audited. Proper regulatory rules will improve your odds of a fair win.
Since your cash is on the line, we also recommend doing a little research on the game. Including the payback percentage, volatility, and overall variance. These factors influence your earning potential from the game, so you need to know what's going on.