SkyCity Hamilton – Land-Based Casino Review
SkyCity Hamilton is based in the sparkling city of Hamilton, New Zealand. Located in the Central Business District on the banks of the Waikato River, this casino is known for its fantastic views. The three-story convention and entertainment centre is chock full of great attractions. From the sophisticated Marble Room to the Zone Sports Bar, Kiwis of all tastes can enjoy their favourite casino games here.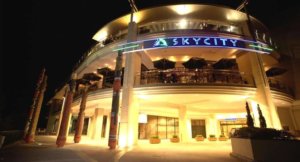 History of SkyCity Hamilton
SkyCity Hamilton officially opened in 2002 and is part of the SkyCity Entertainment Group. Originally built as a partnership, the SkyCity Entertainment Group bought out their partners in 2005. As a result, SkyCity now has full control of the casino. However, leadership decisions can still be made by management without interference from the group.
The casino forms part of the famous Hamilton Riverside, with many restaurants and bars to choose from. There is also a 600-guest conference centre and a ten-pin bowling alley. Kiwis can also enjoy the views of Hamilton with floor-to-ceiling glass windows. The view of the Waikato River is especially magical around sundown from any of their signature bars.
SkyCity Hamilton Games
The casino has over 300 casino gaming machines and 23 gaming tables. Kiwis can choose from casino classics like Roulette, Blackjack, Poker and Craps to name a few. The latest video pokies and more classic games are ranged across the casino floor. And once you've had your fill of gambling, there's a top of the range bowling alley on site. Listed below are some of their bars and restaurants.
La Parrilla
Zone Sports Bar
Eat Burger
Coffee Post
Vue Bar
Marble Room
Overview of SkyCity Hamilton
All in all, visiting SkyCity Hamilton is a must for Kiwis and foreigners alike. Take in the breath-taking views of Hamilton from anywhere in the building. Therefore, this elegant land-based casino has everything you could ever want. All of this within walking distance of Hamilton's best hotels, so you never have to miss out on a great time.