Dunedin Casino – Land-Based Casino Review
Dunedin Casino is the only casino located in Dunedin, New Zealand. Opened in 1999 in the centre of Dunedin, this land-based casino is an elegant mix of old and new. The sweeping grand staircase leads up to the expansive casino floor and a grand glass dome. Dunedin offers a classic casino experience to Kiwi gamblers with all the latest video pokies and table games in New Zealand.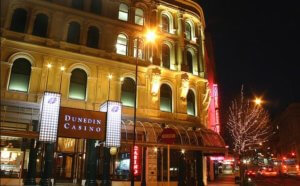 History of Dunedin Casino
Dunedin Casino is located in the South Cross Hotel building, one of the oldest buildings in Dunedin. The building was completed in 1883, though the hotel is much younger. The hotel and casino were described as a 'landmark building' which 'blends the city's heritage with modern styles and comforts.' This is a must-see for day visitors and hotel guests alike. Play at the casino and enjoy all the comforts of home at the hotel, with easy access to shopping and entertainment in the city. The four-star hotel is an excellent choice for Kiwi gamblers.
Dunedin Casino Games
Dunedin Casino offers all the best table games and over a hundred pokie machines for Kiwi casino players and tourists equally. Enjoy classic casino games in style at this grand casino without worrying about parking or where to eat. The Grand Bar and Café has all kinds of delicious treats for hungry gamblers. And if that doesn't strike your fancy, we've listed a few others here at Southern Cross Hotel.
Ports O'Call Bar
Carlton Restaurant
Boldini Cafe & Wine Bar
Overview of Dunedin Casino
Overall, Dunedin Casino has some of the best gaming options for Kiwis and tourists alike. Take a trip to this historic city and enjoy the sites by day. By night, you'll be spoilt for choice at the Dunedin Casino. Since it's so close to the city centre, you'll be able to enjoy all that the city has to offer within walking distance of the hotel. So, visit this great land-based casino today to feel like a real high roller amongst the marble floors and beautiful chandeliers.