Winning Baccarat Strategy List – How to Win
Recently updated on January 2nd, 2021
Finding a well-round baccarat strategy might seem like hitting a goldmine, but you should be careful. No matter what a site claims, you can't win every time with a betting tactic.
So, please read our guide to fine-tuning baccarat strategies and finding the right one with expert advice. And don't forget to visit the premium online casinos listed below to test your skills.
Best Baccarat Sites
What Is It?
A Baccarat Strategy is one way of ensuring that you make the most of your gambling session. Baccarat is one of the few casino games that test the nerves and determination of even the most experienced players. So, having a few effective strategies to help navigate you through the game is always a good idea.
Our baccarat strategies are targeted at new and seasoned online players who are looking to better their odds of winning. Our methods apply to all those playing online baccarat, whether the banker wins or the player wins.
However, some of these strategies can be implemented at a land-based casino as well. Any gambler needs to understand that baccarat is a game of chance. And that there's no definite way of gaining a clear advantage over the house edge or the other players.
But using a baccarat strategy during the game can help enhance your play and adds to your overall experience. Also, it teaches you different ways of playing the game at any online casino we've listed on our site.
Baccarat Strategy for Beginners
Everyone wants to win a lot of money, but getting to that point takes a lot of work. First, you have to study the variant you want to play and the odds of winning. Then, you can start playing around with the strategies we've listed below.
Before we get into some tips, we have gathered the odds of a win: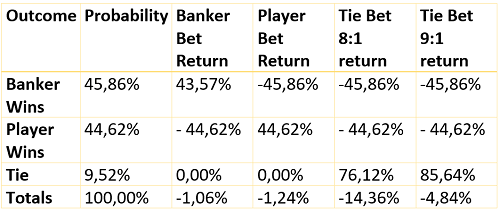 1. Check the Odds of the Game
This baccarat strategy might be a given for pro players, but many new players often join a table without understanding the bets. This is an important aspect to consider if you really want to give yourself a fair chance.
It might also be a good idea to verify the odds with the casino before you play to ensure that the odds provided are correct. Because different versions of baccarat have varying odds and house edges.
The usual commission deducted on bets placed on The Banker in a baccarat game is 5%. But, there are some casinos that charge as much as 25%. A select few casinos have odds of less than 5% when you bet on the banker, but they don't come by that often.
The odds for all bets on The Player come standard at 1:1. On the other hand, the tie bet offers the worst odds at 8:1 and should be avoided. These are the general possibilities of a win for each bet in the game:
Banker – 45.843%
Player – 44.615%
Tie – 9.543%
2. Play Short Sessions with a Baccarat Strategy
It's important for a beginner that you pace yourself and not let all the excitement rush to your head all in one go. A good baccarat strategy is to set a game limit for yourself and count them as you play to avoid going over the limit you've created for yourself.
This will help you keep your sessions short and to the point. Once you've reached your limit, accept your fate, and abandon the game. Don't go chasing after your losses when you're running low, and pay attention to your money management.
3. Reserve Your Bankroll
This baccarat betting system is useful to online players and land-based players. In a game of baccarat, you will incur losses, but you'll also make a few wins here and there if you are lucky. It would be best if you focused on properly managing your bankroll to get you through the good and the bad times.
Baccarat Strategy for Advanced Players
Baccarat One-Sided Strategies
This baccarat strategy is The BOSS, get it? Generally, it uses a flat wagering tactic, and the aim is to win a certain number per baccarat shoe (or round) and do this in the long term. It would be best if you also increased your flat betting wagers overtime to win more.
The Trend Switch Strategy
Baccarat has various trends or patterns that players can follow, and these trends include:
The zigzag
The trend switch treatment
Streaky bankers and players
The hovering state
The first three trends are interchangeable. When playing using the trend switch treatment baccarat strategy, players can switch between the first two trends mentioned above during the game. So, you start by flat betting and then play the game according to the first two trends' rules.
If you lose while following the rules of these two trends, you don't have to quit the game. In this case, you switch to the remaining trends like the hovering state, for example.
Breaking the Doubles Baccarat Strategy
Zigzag or double outcomes characterize most shoes (or rounds) in baccarat. Zigzag meaning there's a trend between banker and player outcomes. The player or banker outcomes also tend to happen in blocks, meaning back to back or short spaces between them.
Basically, the baccarat strategy here is to bet on the opposite probable outcome, and if the zigzag pattern occurs continuously, you bet with it.
A Final Word
All the strategies we've discussed above are great and worth giving a try. But, the best baccarat strategy you can use during any given game is to have fun and stay in control of your gambling habits. That's a tactic that always works and offers the best return- tons of fun and peace of mind.
Other Baccarat Guides
Baccarat Strategy FAQs