How to Play Baccarat Like a Pro
Recently updated on December 24th, 2020
Learning how to play Baccarat is fun and easy at land-based and online casinos when you know the basics. If you don't know, then you've come to the right place, because we've got some expert advice.
In this guide, we'll walk you through the basics: rules, payouts, and the table layout. Plus, we've listed some other handy tips and premium online casinos.
Play Baccarat for Free
How It Works
Most players ask: "what is the object of baccarat?" In essence, the object of Baccarat is to get as close to a hand total of nine as possible.
It's also important to understand the rules of the table game because these dictate every move. What's more, the player is up against the dealer. There are many variants of this game, but they all follow the same basic rules. So, keep reading our Baccarat guide to getting started.
Baccarat is one of the lesser-known games at casinos. While it may not be the first choice for Kiwi players, it has many benefits. Baccarat is compared most often to Blackjack because of the card value and general rules.
However, the card game differs in small ways. As most players know, Blackjack has a threshold of 21 to win. When you play the game, this is much lower at just 9 points.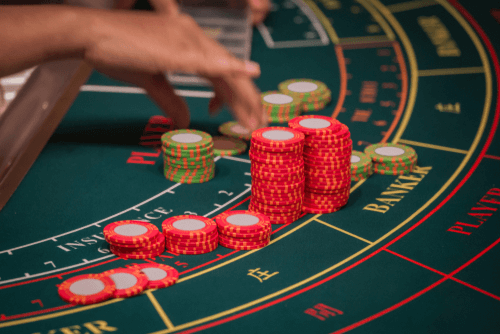 Step-By-Step Guide on How Baccarat is Played
Place a Baccarat Bet – in all Baccarat games; players must place their bets before starting the round. Typically, there will be an option to bet on the player or the banker/dealer. For beginners, placing a bet on the banker is always a good strategy.
Starting Hand – the game starts when the banker deals the cards on the Baccarat table. Should a natural nine be dealt, the game ends.
Second Draw – if neither player reaches nine, the second card will be dealt. Cards valued over ten have no value, but numbered cards carry face values. Ace will count as one in the game.
Collect Bets – after a winning round, bets will be paid out. Keep in mind the there is a 5% commission if you bet on the Baccarat banker.
Learn How to Play Baccarat at a Casino
Now that we've gone over the theory, it's time to answer some pressing questions. When playing Baccarat, it's important to know the basics. After all, you can't play like an online Baccarat pro without some background. First and foremost, Kiwis should learn some essential terms:
Face Card – This term refers to any card with a face on the card. Face cards are worth zero in the game.
Natural – this refers to an eight or a nine dealt out to the player or banker.
Punto – in American Baccarat card game, Punto Banco, this refers to the player.
Commission – at the start of the game, players can choose to bet on themselves or the banker. If the banker wins, Baccarat players will need to pay a commission to the house.
Stand-off –when both the Banker and player's hands have equal value, no one wins.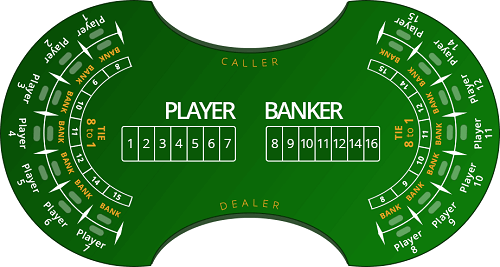 What are the Rules of Baccarat?
Games must start with a bet on the player or the banker. There is also a tie bet, which is considered the worst in any variation.
Once bets are placed, the player and banker receive two cards.
Hands have a maximum value of nine, which must be made up of both cards. For numbered cards, add the values and remove the first digit.
A third card can only be dealt for these reasons while you play Baccarat:

If the player or the banker draws an eight or nine-point total value (a.k.a. a natural).
If the player or banker has a value of five or less.
Should both have six or more, both hands stand.
If the player draws a third card, the banker may also take a third.

The winner must have a higher Baccarat card value.
General Baccarat Payouts
Player Bet Wins – even money
Banker Wins – 19 to 20
Tie – eight to one
Player & Banker Pairs – ten to one
Odds of Winning at Baccarat
Baccarat winning odds are consistent, so we recommend keeping them in mind. However, it's best not to rely entirely on these odds when playing Baccarat, even at a real casino. Just because they apply doesn't mean that every hand of the game matches up.
Player Win – 44.62% of hands
Baccarat Banker Odds – 85% of hands
Ties – 9.53% due to the Baccarat house edge (1.4%)
Without the tie, the banker's hand wins nearly 51% of all hands. As such, 1% seems marginal but more likely than a player win. When in doubt, bet on the banker.
Types of Baccarat
EZ Baccarat
Punto 2000/Super 6
Chemin de Fer
Mini Baccarat
Baccarat en Banque
Three-Card Baccarat
More Baccarat Guides