How to Play Scratch Cards
Just by the name alone, you already have an idea of how to play scratch cards. Whether it be online or from tickets bought at retails shops, the game follows similar rules. What's more, you can also tell that these casino games are also simple to play. So, you won't have to wreck your brain trying to find ways to play scratch cards. There is no intense strategy that you would need to master to be able to play this game.
However, even though it may seem easy to play scratch cards online, we have put this how to play scratch cards guide to help you understand how to play the game better. We also share with you tips on how to become a better scratch card player.
If you are interested in playing these games at an online casino, we have listed the best casinos for New Zealand players. We have put them through a stringent review process to ensure they offer safe and fair gaming for Kiwi gamblers.
Best NZ Casinos to Play Scratch Cards
Play Scratch Cards Page Links
How to Play Scratch Step by Step
Playing scratch cards online is not very different from playing the regular cards. The only difference is that the online scratch cards are computerized and use Random Number Generator (RNG) to give game results. See below for our basic step-by-step tutorial on how to play scratch cards online:
You will first have to choose the card you want to play. There are different kinds of scratch cards that offer a different kind of gameplay. What's more, there are different themes, titles and payouts.
You will then be required to choose the amount to you want to bet. Similar to all other casino games, you are given betting ranges starting from a minimum to a maximum amount. You will choose an amount based on your bankroll.
Then you have to press play. You can choose to click on the scratch card using your mouse, or you can select the scratch all option which will reveal all the images at once.
Once the images are shown, you will know whether you have won or lost. You can then choose to start a new card or stop playing.
Best Scratch Cards to Win On
Scratch cards have better odds that the Powerball or Mega Millions lottery games. Which means that you have a better chance of winning at scratch cards than you would the mentioned lottery games. However, there are scratch card games that you would want to bet your money on to have a chance of winning. Some of the best games you can play are:
| | | | |
| --- | --- | --- | --- |
| Name | Card Price | Odds | Jackpot |
| Everyday Payday | NZ$2 | 1:3.5 | NZ$15 000a day for a year |
| 777 Scratchcard | NZ$0.50 | 1:3.52 | NZ$7 777 |
| 33 Chances | NZ2 | 1:3.55 | NZ$20 000 |
| Elephant Scratchcard | NZ$0.05 | 1:3.6 | NZ$500 |
| Fruity Flurry | NZ$0.80 | 1:2.24 | NZ$50 000 |
| $100 00 Cash | NZ$0.80 | 1:3.1 | NZ$100 000 |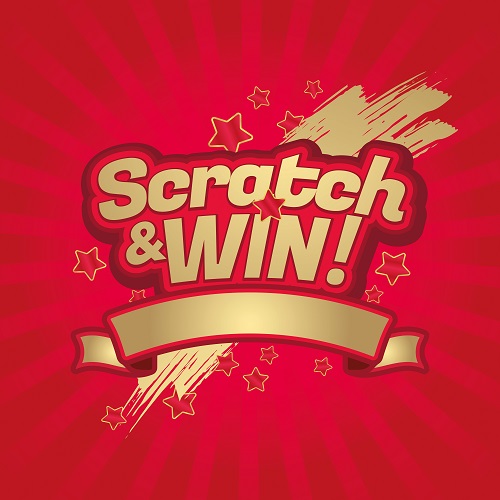 Tips on How to Win at Scratch Cards
Scratch cards are an easy way to win instant cash. However, luck still plays a factor like any other gambling game. But we have compiled the tips below to help you play the game better and hopefully walk away as a winner.
Buy in Bulk – When you buy in bulk, you increase your chances of winning because the odds increase when buying scratch cards in a row.
Check the game odds – odds of any game are not hidden from gamblers, and it is best to check the odds of you winning from any scratch card. Choose a game with better odds.
More Scratch Cards Guides