Basic Pai Gow Strategy
Recently updated on August 1st, 2019
Pai Gow Poker strategy is adapted from the ancient tile game played using Chinese dominoes. While the casino game version is totally different from what it originally was, the strategy to win remains the same. Learn how to set up Pai Gow Poker hands and improve your chances of winning every time. NZ players can draw similarities to the classic tiles game, in which the ultimate goal is to beat the house edge.
Play Pai Gow online to experience the same thrill and excitement you would find betting on table games. The casino game requires players to utilize some skill or strategy to win. Our Pai Gow strategy guide is recommended for both pro poker players as well as beginners. You can pick your favourite Pai Gow Poker casino from our shortlist and sign up today.
Best Pai Gow Websites in NZ
Pai Gow Tactic to Win
The most important thing to remember when playing Pai Gow Poker is that both hands need to be equally strong. The card game features two hands that are divided into five-card and two-card hands. Both hands are required to be strong and high-value cards distributed equally. Find out which Pai Gow strategies are used by pro poker players to win every time:
Beating the House in Pai Gow Poker
For players that want to know whether or not is Pai Gow poker beatable, this guide has the answer. The house edge in Pai Gow Poker is rather low, set at around 2.8%. You should note that while this percentage may be slightly higher than other Kiwi casino table games such as blackjack, there are ways that you can reduce the edge.
There is an already established rule that the house will get its money one way or another when it comes to Pai Gow. This is because there is a 5% commission charged on the winning hand. Over and above the rule, players can reduce the advantage the house has by implementing recommended Pai Gow Poker strategies for online players.
The House Way Strategy
There is a common casino rule Pai Gow poker players use when practicing the house way strategy. This relates to when the dealer is the banker and arranges their hand. The dos and don'ts when playing this strategy relate to how you distribute your front and back hands. The Pai Gow Poker back hand relates to the five-card combination and the front hand is the two-card hand. Players should ensure that they practise the following strategies:
Put your highest card in the five-card hand and off the remaining cards, take the next two cards with high value and place them in your two-card hand. This technique is especially needed when you do not have a pair in your cards.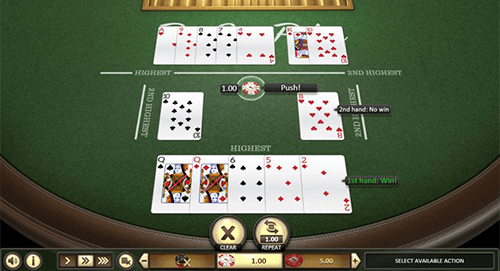 Pai Gow Probabilities – Pair Distribution
Our expert tipsters have formulated these Pai Gow Poker strategies by taking into account the potential of creating certain combinations to win. There are common steps to take once the Pai Gow Poker table has been dealt and you have been given a set of pairs. Pai Gow is all about hand-setting. If done correctly, you increase your chances of winning drastically. Here's what you need to do to win at Pai Gow Poker:
If you have a pair, put them in the five-card hand and place the two highest cards in the two-card hand.
When you have two pairs, you need to split the hands correctly. You can keep the two sets of pairs in your back hand only if it doesn't weaken the front hand. Alternatively, you can place the lower value pair in the five-card hand and have a high-value pair on the two-card hand.
Three of a kind is quite rare but on the chance that it occurs, this is what you must do. You need to ensure that the back hand has the all of the cards and split the remaining cards on the front hand.
The full-house strategy involves placing the three-of-a-kind cards in your back hand and the pair into your front hand.
While there is no guaranteeing that these strategies are fail-proof, they have statistically been proven to help NZ players win playing Pai Gow Poker online.
More Pai Gow Guides Below