Is Keno a Bad Bet?
Playing keno is a bad bet if you're planning on winning large sums of money these days, but not for the reasons you think. Most online gambling sites offer the game to players because it's good for their bottom line, just not yours.
While it's fun to play a few cards in a social setting, we don't recommend trying to make a living on keno. And these are the reason why keno is a bad bet.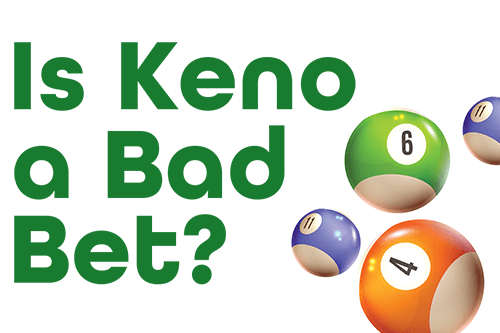 1. Losses Will Pile Up
Most keno tickets cost $1, and that makes playing seem harmless to the average gambler. After all, you have a chance to win $500 or more on the right card.
However, you're more likely to win small returns that won't offset what you've lost. Unlike most casino games, you'll only play four to 12 draws an hour, with very low odds of winning.
2. Predicting Numbers is Impossible
Keno gives players an illusion of control by allowing them to pick numbers from a pool of 80. As a gambling game, it's quite effective, and that's the main draw.
The truth is that you have no control over the game, and you're more likely to lose with your picked numbers. Plus, draws are independent, so you can't predict the numbers coming up next from the same pool of 80.
3. Bonuses Can Have Ridiculous Wagering Requirements
Online casinos love handing out bonuses to keno players because they know you'll eventually lose all of your money. The problem with keno-specific bonuses is that you have to play online keno to get through the wagering requirements.
Whenever you take a deposit match bonus, we recommend sticking to the lowest possible deposit amount. That way, you can walk away from the offer without losing more than you expected.
4. Odds of Winning Never Change
All keno machines are run by a random number generator (RNG), ensuring fair and independent outcomes for each draw. Thanks to RNGs, there's no way changing up your gameplay or numbers will adjust your winning chances.
Probabilities remain the same, even with manual draws at casinos near you. So, play consistently or not at all, especially online.
5. There's No Real Keno Strategy
No casino game has a foolproof strategy, but keno is especially difficult to play with a system. You'll find plenty of "guaranteed" tactics for sale online, but they don't work.
As a lottery game, keno is one of the worst games to try and strategise through. Any strategy for sale is usually a scam and only designed to take your hard-earned cash.
So, Is Keno a Bad Bet?
If you're looking for big, consistent wins, then keno is the worst bet you can make. Every ticket you buy and the number you pick is less likely to win than you'd think.
Video keno is even worse because you can play more draws in an hour and lose more money that way. The odds may be the same as casino keno, but you can lose a lot more money.
Where to Win Keno