Frequently Asked Questions from Gamblers
Recently updated on July 1st, 2017
FAQs, or Frequently Asked Questions, are common questions asked by online gamblers. If you're new to Internet casinos, some of the jargon or terms might not make sense. So, we've set up a FAQs section to help you find the answers you need to gamble safely.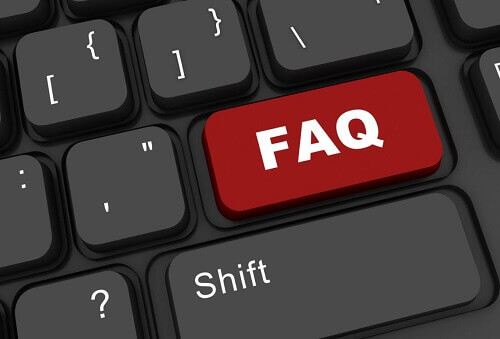 How do I know if an online casino uses New Zealand Dollars?
By reading casino reviews and checking the currencies a casino supports. Many overseas-licensed casinos will support dollars and euros, which you can see in their bonuses and promotions. If the casino accepts players, you will be able to gamble for NZD real money.
What is a welcome bonus and do I have to claim it?
A welcome bonus is an incentive offered by a casino to attract NZ players. These bonuses may include a match deposit bonus or even some free spins on specific online pokies. You aren't obliged to claim the bonus, but we do recommend reading through the terms and conditions before accepting it.
How soon can I withdraw my bonus money?
That depends on the casino's terms and conditions. Many casinos require that players bet their initial deposit by a certain amount. For example, if a casino states that you need to wager 15 times your deposit. If you deposit $10, you have to spend $150 in bets before you can claim it.
What banking methods can I use at an online casino?
A good casino will offer many casino banking options; including things like eWallets, Credit or Debit Cards, and Direct Wire Transfers. Each method has its benefits and drawbacks, so check out our casino banking guide for more. However, it is up to Kiwi players to decide which method they feel comfortable with.
Is there a limit to how much money I can play with at a casino?
Yes and no. This depends on the banking method you use, and the bankroll you set. Payment services like eWallets or prepaid cards will allow you to spend what you paid into them. Casinos will usually not mind how much you deposit, but be careful of withdrawals.
What are withdrawal limits?
Withdrawal limits are measures put in place by casinos to keep players from withdrawing too much at once. These limits can be applied at weekly intervals or monthly intervals. However, different casinos have different amounts that they limit. That is why reading the terms and conditions are so important when it comes to gambling online.
What is a no deposit casino?
A no deposit casino is a casino that offers a no deposit bonus to first-time NZ players. However, many casinos require that players create a free account to claim the bonus. So, we always recommend checking what the terms are like at these kinds of casinos as well.
Safety and Security FAQs
How can I be sure an online casino is safe?
Safety and security at a casino can be checked quite easily. Simply go to the website, there you can check your search bar for a lock icon. If the lock is closed and green, the casino is protected by encryption technology. This ensures that your personal details are safe and will never be shared with outside parties. However, casinos may share your details with authorities if you go against their rules.
Is it safe to use casino banking?
Absolutely. All Kiwi players need to do is select a safe casino banking option and they'll be able to transact safely. You can also check your payment method's site for encryption in your search bar. As always, the green lock icon in your search bar means that your details are safe.
What is a rogue or blacklisted casino?
A rogue, or blacklisted, casino is a casino that breaks gambling laws and regulations. A rogue casino could also treat their players badly, or offer illegal gambling options. Blacklisted casinos will usually be repeat offenders who have lost their license for breaking regulations.
Where can I get help for gambling addiction?
There are several ways to receive help for problem gambling or gambling addiction. This includes helplines and organisations funded by gaming funds, such as the Problem Gambling Foundation and the Gambling Helpline. If your, or someone you know, has a gambling problem; please seek help immediately.
Is online gambling legal in New Zealand?
Yes, it is. If you are under the age of 21, you may not enter a land-based casino. However, anyone over 18 may gamble online, provided the casino is licensed overseas.
Other FAQs
What casino games can I expect?
Kiwi players can expect only the best selection of casino games at the top-rated casinos. Table games like Roulette, Poker, Craps, Sic Bo, Pai Gow, Blackjack and more are supplied by many game developers. You can also expect only the best online pokies from developers like Microgaming, Playtech and NetEnt.
Is there a limit to how much money I could win while gambling online?
No, but there's also no guarantee that you'll win big on your first try. Casino games are games of chance, and casino games are much more difficult. This is because they use Random Number Generators (RNGs), which ensures that the games are completely random. All you can do is learn tips and tricks to minimise your losses until you hit the jackpot. Brush up on rules, game variants and a lot more here at NewZealandCasinos.
What is a payout percentage and how does it work?
A payout percentage is the average amount of winnings that a casino pays out to players compared to the amount they take in. For example, if a casino's payout percentage is 90%, they've paid out 90% of the money wagered there. So, for every $1 wagered, $0.90 is returned to players. However, this is worked out across the whole casino, which is thousands of bets. It won't mean that you will get $0.90 for every Dollar you bet.
What is Gamblers Fallacy?
Gamblers Fallacy is a common belief among gamblers that previous outcomes will affect future outcomes in a random game. Many players believe this, and it isn't true, especially not online. So, let's say you're playing Roulette and the ball has landed on red for the past few spins. Surely it is more likely to land on black on the next spin? This is, sadly, not the case with RNGs. Each time the wheel spins, the odds of the ball landing in a zero, red or black pocket is the same.
Why should I try gambling online?
Well, if you're here, you've probably thought about trying out a casino or casino game. All we can tell you is those payout percentages are higher at casinos. There's also the added benefit of the gambling wherever you are, where you feel comfortable. You don't have to pay for drinks or parking at a casino; you can jump right into the action. There are also more games, and you don't need to wait for other players.
Can I play online casino games on my Apple devices?
Luckily the answer here is yes. A few years ago, this might have been a different story, but with modern casinos, you can play on any device. This is because casinos now offer games through browsers and Instant Play. A lot of game developers also create games now that use HTML5, so you don't need a flash player to enjoy your favourites!
Are there games that can be played on mobile devices?
Yes, in recent years, the same innovations that allowed Instant Play also brought games to mobile. You can now enjoy online gambling on any device, from desktop to mobile devices. Gambling has never been easier or of better quality than right now.
What is a progressive jackpot casino game?
A progressive jackpot is a pool of bets from a specific game that builds up over time. A portion of every bet made is added to the pot, and the jackpot can be triggered at any time. Famous progressive jackpots include Microgaming's Mega Moolah and NetEnt's Hall of Gods.
How can I win a progressive jackpot game?
Unfortunately, there is no strategy for online pokies that will guarantee you a win. However, you can choose to follow a few of our tips. Some of them include:
Sticking to your bankroll.
Betting the max to win the entire jackpot.
Don't chase your losses.
More Top Gambling Guides: