Online Lotto is the ultimate game of big dreams – having players swoon at the thought of what they would do if they won that Lotto jackpot. As one of the biggest games played worldwide, it was a no-brainer that the Lottery will take the Online Gaming sphere by storm. More so, Kiwis can now enjoy playing the lottery from the comfort of their own homes. Without the hassle of making their way to a Lotto New Zealand retailer by using state-of-the-art top online casinos NZ.
Of course, there's nothing wrong with buying a ticket, but online lotteries are quicker. There are many forms of lottos in New Zealand, so players can try them all with just a click. After all, variety is the spice of life and everyone wants a chance to win real cash. So, keep reading for our best tips on this age-old casino game.
Top Online Lotto Sites NZ
What you'll find on this page
What is Online Lotto?
Online Lotto is also known as "Online Lottery" and it is a game where players try to guess the numbers that will be drawn in a single sequence for a prize. Online Lottery Games are internet versions of the popular casino games loved by many Kiwis. In New Zealand, there are different types of Online Lotto Games, with some of the most popular variants being the Lotto, Powerball, Strike!, Instant Kiwi, Bullseye and Keno. You can enjoy these at the best online casinos NZ.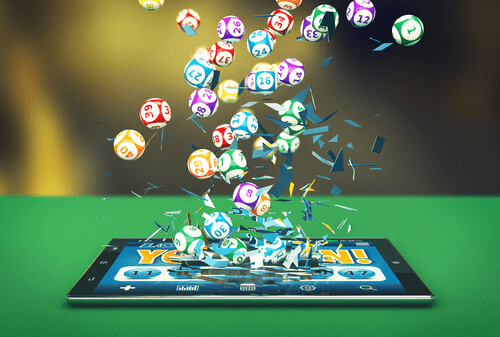 How to Play Online Lottos
New Zealand players have the choice of playing only the Lotto Game, or the Powerball Game in addition to it, or the Strike game in addition to it or both in addition to playing Lotto.
This is how it works:
Start
New Zealand players get a choice of numbers 1 to 40 to choose from.
There are fifteen lines to play on a single ticket, but players have to play four or more lines per ticket online – one line equals one entry.
Every line requires the player to pick six numbers for an entry to be valid.
Additionally, players in New Zealand have the option of playing the Powerball with their lottery entry. The Powerball is an additional number on top of the line of numbers chosen by the player. There will be a section with number options 1 to 10 for the player to choose their Powerball from.
If the player does not want to pick numbers, but wishes to play, there is an Autopick functionality that will pick random numbers for the player. When the player clicks on the Autopick button, a random sequence of numbers will appear and depending on whether the Powerball functionality is switched on, Autopick will randomly pick a Powerball for the player as well.
Then
Each time after a full line of numbers has been completed, be it manually or via Autopick, the player has the option to Reset or Confirm the Line.
Once at least four lines of Lotto have been played, the Strike! option becomes available. This game requires the player to choose four numbers from 1 to 40 in the sequence they think it will be drawn and up to twenty Strike lines can be played per ticket.
The player can track how much it will cost to play as the price of the ticket is calculated automatically when the player resets and confirms lines on the ticket. Once the player is happy with the ticket and ready to enter, the player must click on the "Buy now" button.
After pressing on "Buy now", the New Zealand player will get a summary of the lines and games played as well as a summary of the costs to double check that everything is in order. The player will also get an option to play for the next draw, the next two draws or the draw after the next draw. Additionally, the player has an option to enter in eight more draws with the same ticket.
To finalise the entry, the player must click on the "Confirm purchase" button. The player is then redirected to a confirmation of entry page. All there is to do now is for the player to keep their fingers crossed and wait for the show on TV One on Wednesday nights (8:20) and Saturday nights (8:00).
Online Keno for Kiwis
Online Keno offers New Zealand players the flexibility to choose the rules and the stakes for their game.
Playing Keno in 5 easy steps:
New Zealand players get to choose their preferred total of numbers to play (can choose up to 10 numbers per line).
Players choose which amount they are willing to spend per line. The amounts range from NZ$1 to NZ$100.
Players get to choose how many draws they want to play. There are four draws every day and players can choose any amount of draws from 1 to 28.
The four daily draws always happen the same times of the day and players get to pick which draws they want to enter into. The first is at 10 am, the second is at 1pm, the third is at 3pm and the last one is at 6pm.
All that is left to do now is for the players to pick any numbers from 1 to 80. Then it is just a matter of adding more lines and buying the ticket.
The "Reset", "Confirm", "Autopick" and "Buy now" buttons also apply in the same way in the Game of Keno.
Bullseye – Online Lotto
Bullseye is an easy Online Lotto game to play and it is quite popular in New Zealand. The player's aim is to guess a number as close as possible to the number that will be drawn that day. Players can enter with $2 and choose any six-digit number from 000 000 to 999 999 to stand a chance to win NZ$100 000 every day!
When a player guesses the exact number that is drawn, they get the first division prize as they have hit the bullseye and they win a whopping NZ$100 000. If the jackpot is not won, it carries over to the next day on top of the jackpot of that day until it reaches NZ$400 000. So, when the jackpot hits NZ$400 000, a Bullseye Must Be Won draw is held.
Online Lotto – Simple and easy to play
If you are looking to simplify things even more without missing out on a chance to win, you can pick a Dip on your Online Keno or Bullseye Game. Also, if you are on the lookout for more fun Lottery Games in New Zealand that might tickle your fancy, try Play3, Instant Kiwi and 2ND Chance.
The History of Lotto in New Zealand
Approved in February 1986 by the New Zealand Cabinet
The legislation to approve the Lottery was passed with a 47–20 vote in Parliament
The first Lotto draw was held on 1 August 1987
With time, more games like Kiwi scratch cards, Lotto Strike, Keno, Bullseye and Powerball were introduced.
Basic Online Lotto Glossary
Powerball
The Powerball is an add on game. Every Powerball must correspond with a Lotto line and players have options from 1-15 for their Powerball per ticket. In the live draw, the Powerball is drawn directly after the Lotto draw.
Strike!
Strike is also an add on game – it only becomes available after the player has four lotto entries on a single ticket. In Strike players need to try guess the first four numbers that will be drawn in the Lotto draw in the sequence they will be drawn in. More so, adding a Strike means that the player is entering to win an additional $400 000.
Autopick
New Zealand Players can use this functionality of the Online Lotto Games to randomly picks the numbers for them when they don't feel like choosing the numbers themselves.
Reset
When selecting their Lotto Game numbers online, players can hit this button to redo their selections.
Confirm Line
This is the button players press when they are happy with the selection of number sequence they have chosen in any given line of Online Lotto Games.
Lucky Dips
With Lucky Dips players get to choose between four groupings of lottery entries – each choice with a different number of lines on the ticket. Lucky Dips are easier to play as the computer will randomly pick all of the numbers for the player. The Lucky Dip options are:
| | |
| --- | --- |
| Lotto Lines | Cost |
| 8 | NZ$4.80 |
| 10 | NZ$6.00 |
| 15 | NZ$9.00 |
| 20 | NZ$12.00 |
Power Dips
Power Dips are similar to Lucky Dips – the only difference is that these lucky packs include Powerball entries. The Power Dips options are:
| | | |
| --- | --- | --- |
| Lotto Lines | Powerball Lines | Cost |
| 8 | 8 | NZ$9.00 |
| 10 | 10 | NZ$12.00 |
| 15 | 15 | NZ$18.00 |
| 20 | 20 | NZ$24.00 |
Triple Dips
Triple Dips are Power Dips dipped in some Strikes! The Triple Dips options are:
| | | | |
| --- | --- | --- | --- |
| Lotto Lines | Powerball Lines | Strike Lines | Cost |
| 10 | 10 | 2 | NZ$14.00 |
| 10 | 10 | 4 | NZ$16.00 |
| 15 | 15 | 2 | NZ$18.00 |
| 20 | 20 | 2 | NZ$24.00 |
Keno
In the game of Keno players get to choose not only their numbers, but also how many numbers they want to play per line, how much they would like to spend per line, which draws they want to play for and how many draws they want to enter into. You can find great Kiwi casinos with Keno options on our site.
Favourites
All Lotto Games which allow players to choose their own numbers have this feature. On the official Lottery website players can save their favourite numbers in case they want to use them for future entries. In order for players to save their favourite numbers on the website they need to sign up.
Bingo
Online bingo is a popular game that dates back to the 16th century. This is a great lottery game because anyone can play it, and you can play multiple cards. In online bingo, players will try to spell out bingo from the numbered balls called. For example "B2" or "o25,' numbers can automatically marked, or you can mark them yourself.
More casino games for Kiwis:
Online Lotto FAQs