Esports Arena Las Vegas Grand Opening Streamed Live
On 24 March, the Esports Arena Las Vegas opened its doors at the MGM Luxor. The 'invite-only' grand opening was live-streamed on the popular Twitch platform. Twitch is used by many professional gamers while playing popular titles online. Their first tournament event launched on Saturday and ended on Sunday, where players went head to head on Nintendo's Super Smash Bros for Wii U. The 30 000 square foot venue features hundreds of gaming options from classic consoles to virtual reality spaces.
This is the first dedicated arena of its kind on the Las Vegas strip, and has sparked other developments across the United States. The space is divided into three areas, featuring a dome area for tournaments with a stage that can fit 1500 people. Added to this is the front lobby, which features the gaming and virtual reality spaces open to the public. According to reports, the venue also features VIP rooms and a bar.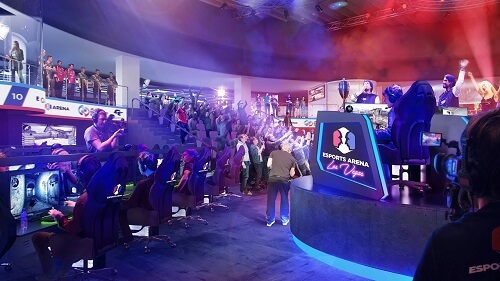 Esports Arena Las Vegas Partnership
The all new arena is a joint partnership between Esports Arena, Allied Esports International and MGM International. Pegged as a 'flagship venture' on the official website, the venue also sports a restaurant run by celebrity chef José Andrés. His menu features 'non-greasy' foods specifically for gamers, including rice bowls, flatbreads and Maki rolls.
Initially, the venue was a nightclub called LAX, but has since been refurbished as the first dedicated arena for eSports on the infamous Strip. The entrance is 'easy-to-find' from Luxor's main entrance, and is close to the casino floor. Professional and amateur gamers are expected to visit regularly for planned tournaments. More so, with a US$25 a day gaming pass available during operating hours for any visitors.
Allied Esports Venue Network
The partnership with Allied Esports will also allow the new arena to be used for professional international tournaments. With the growing popularity of these tournaments, the MGM Luxor could have an edge over other options. After all, the integrated resort features luxury accommodation and facilities needed for those participating and viewing the competitions. When they aren't streaming on sites like Twitch, of course.
Keep visiting NZ Casinos for more gaming and casino news.