Best Craps Tips
Recently updated on June 23rd, 2019
Loads of sites offer craps tips to New Zealand players that claim to be sure-fire way to win. However, there is no way to ensure that you win at this dice game because if there were, casinos wouldn't offer it on their gaming floors. With that stated, there are a few craps gambling tips that will improve your odds of winning more games. Think more certain bets that are more likely to garner wins as opposed to the gambler's fallacy. Ultimately, players who keep these in mind while playing are sure to reduce the overall house edge.
If you would like to learn such tips, make sure to read on. On this page, we have listed all the best craps tips to win, along with some basic overall strategies that may also help improve your game. So, read on and improve your craps game now by thinking more strategically!
Top Craps Casino Sites
Tips for Playing Craps in New Zealand
The tips listed below should always be kept in mind while playing craps. They won't decrease the house edge, but they will prevent you from making irresponsible decisions that lead to unnecessary losses.
Don't Get Caught Up in the Excitement – it is important to remember that you should not let yourself get carried away while playing any casino game. Yes, winning is fun and gambling in general provides an adrenaline rush. But don't let all this energy push you into making bad bets. It doesn't matter if you won the last five bets, you still have the same chance of losing a bet with 35/1 odds that you did before you started playing the game.
Practice – although craps is quite an easy game to learn how to play, understanding how it works in a live environment is a different story. Make sure that you practice craps in free mode before placing real money wagers to get an idea of how the game works in action.
Time Your Gaming Session – make sure that you set a time limit for your gaming session. Although playing gambling games can be fun, you never want it to take over your life in a way that ultimately leads to heavy losses or even addiction. So, time your gaming sessions and walk away when they're over.
Make Use of Bonuses – make sure to take advantage of casino bonuses when playing online. This can extend your bankroll depending on the size of the cash bonus.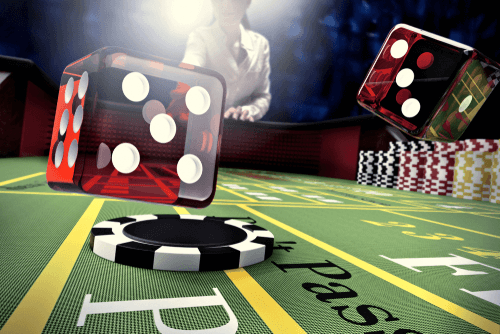 Craps Betting Strategy Tips
Some might notice that the tips described above could possibly be applied to other gambling games. Thus, below we have listed some more specific craps tips and tricks:
Focus on Placing Bets with a Low House Edge – so there are bets in craps that offer a house edge as low as 1.40%. These are generally the Pass/Don't Pass and Come/Don't Come bets. While these wagering options may not offer big payouts, they are easier to win. Remember that a constant stream of small wins is better than constantly losing big, ridiculous bets.
Always Take Odds Bets – odds bets have no house edge attached to them, so it would be stupid to miss out on an opportunity to stick it to the casino. Although these opportunities appear very rarely, when they do, you need to latch on to them.
Avoid Proposition Bets – avoid making prop bets which are dependent on the results of the next roll. While may provide you with an adrenaline rush, don't let dollar signs in your eyes blind you to the fact that you would probably lose this bet. If you're gambling for fun, by all means up the ante to have a good time, but if you're gambling with the aim to walk away with a profit, avoid props at all costs.
Avoid Big 6 and Big 8 Bets – these wagers offer a high house edge, meaning you're less likely to win them. In addition to this, they offer worse payouts than place bets on the same numbers.
More Craps Guides