Strike Lotto NZ – How to Win
Recently updated on January 18th, 2021

Up the ante on your next lotto ticket by choosing the Strike lotto option on your regular ticket for just $1 per line. Since you can play Strike either with the lotto draw or separately, it's worth a shot.
If you want to find out more about how it works and your potential prizes, keep reading our guide. Or view the latest lotto results below at our premium online gambling sites.
Compare Lotto Results
How Lotto Strike NZ Works
Essentially, Strike is an add-on to the usual lotto draw and requires you to guess the sequence of numbers draw in that order. To get the full prize, you need to guess four numbers in order correctly.
When you buy a Strike ticket, you need to pick four numbers in the range of 1-40. Or add Strike to your lotto card for $1 per line.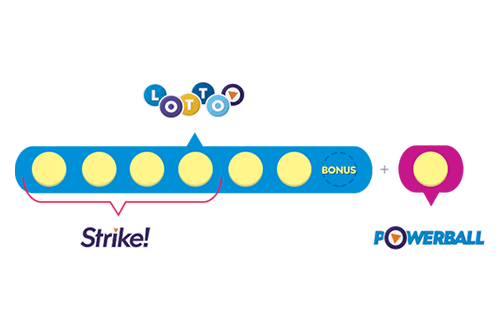 How to Play Strike Lotto
When you're ready to enter the draw, you can pick four numbers for your ticket and multiple lines. You can either add this to your lotto numbers on the ticket or as a standalone draw.
There are three options for picking numbers in the lotto: Dips, choosing your numbers each time, or saving your lucky numbers online. Our players-turned-experts recommend using Dips because they're random like the draw.
You can also add the Powerball if you're feeling extra lucky for the Wednesday and Saturday draws.
Strike Lotto Payouts
The grand prize in Strike starts at $100 000, which pays out when you get four matches. If you match three numbers, you'll get $800, $80 for two matches, and a free line for matching one number. Here's how it works, according to the MyLotto website:
Playing Strike Lotto
If you're ready to strike it lucky (pun intended), you can go to any of the 1500 stores, through the My Lotto app, or the website. Ensure that you get your card before the draws to avoid disappointment!
Keep in mind that your chances of winning are lower than a lotto draw and there are few lotto winners NZ who have managed it. And don't forget to check the lotto results online after the draw!
More Games