Atlantic City Blackjack
Recently updated on January 1st, 2022
Online Blackjack is a well-known gambling game Internet casinos. With many variants and unique twists on the game of 21, we've put together a guide on one popular version, Atlantic City Blackjack. Now, this version is slightly different as it has a few tweaked rules. Kiwis may be familiar with. Let's dive right into this exciting online table game with the low house edge of 0.36%.
However, we have to warn any new players against cheating and card counting. Casinos really don't like players who cheat, and they can ban you for life. Since New Zealand only has six casinos, you could be banned from all of them. Conversely, card counting is impossible with online Blackjack, so don't try.
Play Blackjack for Free
How to Play Atlantic City Blackjack
So, what makes Atlantic City (AC) Blackjack so different from games like Classic Blackjack? Well, in this variant, players can use a 'last surrender' option at any point in the game. More so, online casino players can expect some other additions to the rules of American Blackjack.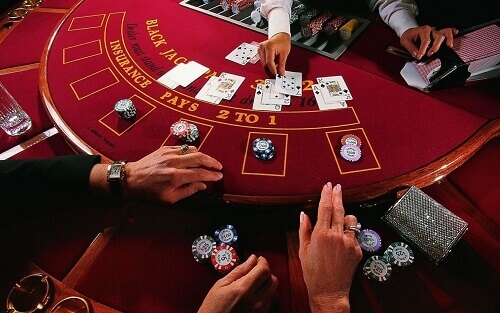 Rules for Atlantic City Blackjack
A few more rules unique to American and Atlantic City Blackjack are listed below for gamblers.
In Atlantic City Blackjack, the dealer must stand on a hand of 17.
Any card valued at ten is seen as equal and can be split by players.
Players can only double on the first two cards they are dealt out or the cards after a split.
Players can split up to three times in this variant, allowing them to hold four hands.
However, aces can only be split once in this version of Blackjack.
Step-by-step guide
Step 1 – Register and verify your online casino account, or simply login.
Step 2 – Choose an AC Blackjack variant from a good game provider.
Step 3 – Place your bet and get your cards.
Step 4 – Play according to the rules above.
Step 5 – Enjoy the game.
Tips and Tricks for Playing Atlantic City Blackjack
The Atlantic City variant typically uses eight decks of 52 cards each, which are shuffled every round. The dealer may also peek at their hole card if the card is an ace or a ten. Our team of expert players have put together a few tips for NZ players to keep in mind while enjoying AC Blackjack. However, these are only suggestions for Blackjack players.
Gamblers can use the last surrender option at any time. However, we advise only using it on a hand of 16 if the dealer is sitting on a nine, ten or 11.
Online casino players can also use the last surrender if they hold a 15 and the dealer is sitting on a ten.
Always split a pair of aces, but don't split a pair of tens.
NZ Players can stand on a pair of tens and take a victory.
If you have a pair of twos or threes, wait for the dealer's hand. Split if they have anything between and including a two and a seven, but stand on any other hand.
Stand on a hand of 17 if you can.
More Blackjack Guides