Evolution Gaming Debuts MONOPOLY Live Dream Catcher
Recently updated on April 14th, 2019
A live Monopoly game is the latest brainchild of the ever-innovative Evolution Gaming, the premier live casino gaming provider. They made the announcement on the 11th of April. The unique Monopoly game is created in partnership with Hasbro, Inc. Evolution's twist on a classic board game merges with their Dream Catcher game to create a truly unique offer. The live casino game developer gave us a teaser sneak peek of Monopoly Live. At the International Casino Exhibition (ICE) that took place in London from the 7th to the 9th of February 2019.
Most if not all Kiwis grew up on the classic board game Monopoly. So, for Evolution Gaming to pull out a real money Monopoly meets Lucky Wheel out of their magic hat is nothing short of exciting.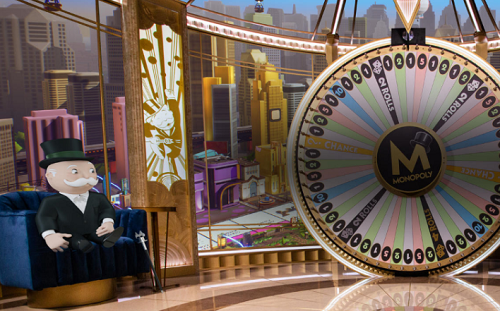 What to Look Forward to in MONOPOLY Live
The all new MONOPOLY Live is breathing new life into Evolution's Dream Catcher lucky money wheel. Already, Dream Catcher was ahead of the online gambling game with its lucrative multiplier wins feature. Not only that, there are life like 3D Bonus rounds with a fun story line centering around a character called MR MONOPOLY. Now for Evolution Gaming to marry the most popular board game ever with the classic money wheel is a treat for all Kiwis who enjoy live gambling online.
MONOPOLY Live: How Hasbro and Evolution Gaming Created the Game
Evolution's Chief Product Officer, explained how Dream Catcher had caught players attention since its launch in 2017. So, they were only happy to partner with Hasbro Inc. whom he called "one of the world's best-loved brands". To make this one of a kind edition of MONOPOLY Live Dream Catcher.
Todd Haushalter, Evolution's Chief Product Officer explains the collaboration process with Hasbro. Haushalter reveals how together with Hasbro they exploit some of the world's most advanced augmented reality technology available. As much as MONOPOLY Live Dream Catcher is cutting edge tech, it is still an exciting fun game filled with timeless monopoly elements and real money bonus features.
So, try the new game out at the top New Zealand casino sites we recommend here.