McGregor Announces MMA Retirement
Mixed Martial Artist Conor McGregor is retiring from MMA. The lightweight champion announced the news on social media early Tuesday. The star wished his old colleagues well. Read more on the story below!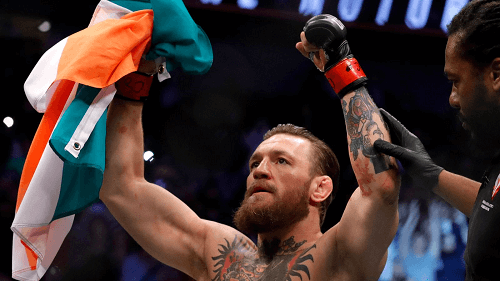 Conor McGregor's Retirement from the MMA
On Tuesday morning, Conor McGregor took to Twitter to announce his retirement from the MMA. He said in a single Tweet: "I've decided to retire from the sport formally known as "Mixed Martial Art" today. I wish all my old colleagues well going forward in competition,"
"I now join my former partners on this venture, already in retirement. Proper Pina Coladas on me fellas!" he added.
The announcement comes after the 30-year-old controversial Irish fighter was arrested recently for allegedly smashing and stealing a fan's phone outside a hotel in Miami Beach. He was later released on a $12000 bond at the Turner Guildford Knight Correctional Centre. Meanwhile, before that, Conor McGregor was suspended from the UFC for six months in Jan and was fined a whopping $50 000 in addition. The suspension is retroactive to October 6.
It comes after the fighter was captured in a video with a group of people attacking and vandalising a bus full of UFC fighters as they were arriving in New York for an event in April 2018. The incident left two UFC fighters scrapped and one with a minor injury. McGregor was charged with three counts of assault and one criminal mischief of the day in question.
Hoax or No Hoax?
Could his controversies be the reason behind his retirement? We hope not!
Hours before the retirement announcement, "The Tonight Show" aired an interview of McGregor's with host Jimmy Fallon where the fighter revealed that he was in negotiations for an upcoming fight.
"My next fight, we're in talks for July. We'll see what happens. A lot of politics going on. The fight game is a mad game but as I said again, to my fans I am in shape and I am ready," said McGregor. Dana White, who's the president of the UFC said in a text message to ESPN's Brett Okamoto that McGregor had achieved "incredible things".
"He has the money to retire and his whiskey is killin' it," said White. Conor McGregor has scored a business venture to launch a whiskey brand Proper No. Twelve with Eire Born Spirits.
"It totally makes sense. If I was him, I would retire too. He's retiring from fighting. Not from working. The Whiskey will keep him busy and I'm sure he has other things he's working on," added White. "He has been so fun to watch! He has accomplished incredible things in this sport. I am so happy for him and I look forward to seeing him be as successful outside of the octagon as he was in it."