Sky Bet Bought by Stars Group
Sky Betting and Gaming (SBG) has just been bought by a Canadian gaming firm, the Stars Group. The US$4.7 billion (NZ$6.6 billion) will see the Stars Group become one of the largest publicly traded gaming firms in the world. Sky Bet's offerings will form part of a now stuffed brand portfolio. Additionally, their entry into one of the 'largest regulated online gaming markets' will give the operator access to a wider sports betting market.
As one of the United Kingdom's largest gambling operators, SGB's products & deals will soon boost existing Stars Group brands. This includes mobile apps and exclusive Premier League coverage. Mobile betting accounted for 80% of Sky Bet's profits in the past year. According to reports, SGB also have 'the largest active player base in the UK.'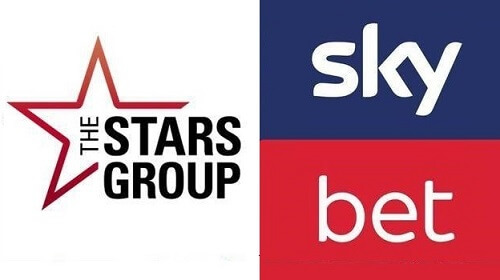 Sky Bet Deal not Finalised
The Stars Group are still waiting for approval from the Toronto Stock Exchange and gambling authorities before finalising their deal. This is expected to be complete by the third quarter of 2018. There is also the matter of a cash payment and common shares that need to be paid before then. The Stars Group will pay US$3.6 billion (NZ$5 billion) in cash, and issue US$1.1 billion (NZ$1.55 billion) in shares to SGB.
Once that's done, the PokerStars operator will begin improving their own bookmaker brand, BetStars. This will be done by combining products from Sky and their own technology.
Stars Group CEO, Rafi Ashkenazi, gave an official statement about the deal. He called the merger a 'landmark moment' in the company's history. What's more, he said that Sky Bet's gambling products are 'the ideal complement' to their poker brands. In addition to PokerStars, the gaming firm operates Full Tilt Poker and recently acquired CrownBet in Australia. Overall, 2018 is gearing up to be a good year for the Poker operator. However, they will still need approval from regulators to go ahead.