Crown Resorts Limited Sells off Global Stake in Las Vegas
Recently updated on February 1st, 2018
It's been a quiet start to 2018 for Australian gaming firm Crown Resorts Limited. The casino operator was in the headlines for most of 2016 and 2017 following the Macau arrests of 18 employees. Since then, they've run into trouble with Australian authorities and investors. In the case of the investors, Crown Resorts had failed to mention the arrests and how it would impact their stakes in the Melco Crown venture.
However, these problems have led to Crown abandoning all plans of expanding their business beyond Australia. This week, they completed the sale of their Alon Las Vegas property to Wynn Resorts. The selling price for the 34.6 acre property was US$300 million (±NZ$407 million). This sale forms part of a US$567 million (±NZ$769 million) cost-cutting plan set out by the disgraced casino operator to recoup its Macau losses. Other notable cuts include their Macau resort stake to Melco Resorts and Entertainment.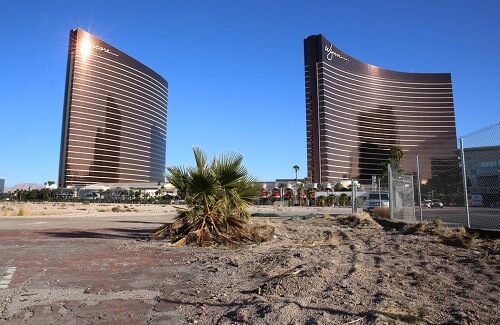 More trouble for Crown Resorts Limited
In late 2017, Crown Resorts Limited ran into trouble with the Australian courts for slot tampering at the Crown Melbourne. According to reports, they had illegally changed Aristocrat games to tempt gamblers. One case involves a gambling addict who filed a suit against the casino operator and Aristocrat. However, the federal government has also been made aware of the allegations. An investigation is reportedly underway.
Alon Las Vegas Property
The sale of the Alon property is quite a hard knock for the casino chain. They purchased the property in 2014, and had plans for a large resort. Their plan for the venue included a casino floor with 1100 gaming tables and machines, as well as the same number of hotel rooms. Additionally, they had planned a large ballroom, pool area and nightclub on the property.
To make matters worse, they have sold a 62% stake in CrownBet and a US$56 million (±NZ$76 million) stake in Caesars Entertainment. Hopefully, Crown Resorts Limited will be playing more carefully with their bets in 2018.