What Is Full Pay Video Poker?
In short, full-pay video poker is any variant of the gaming machine with the highest possible payout percentage. In many cases, this is the 9/6 version, where the maximum coins are paid out for the winning hands. Comparatively, the 8/5 version increases the house edge by removing one coin from each payout.
We'll get into the nitty-gritty later on, but you need to know that the ratio of full pay shows the payout for a Royal Flush (9 coins) and the Flush (6 coins). These establish the range of the table and will help you to aim for the best payouts.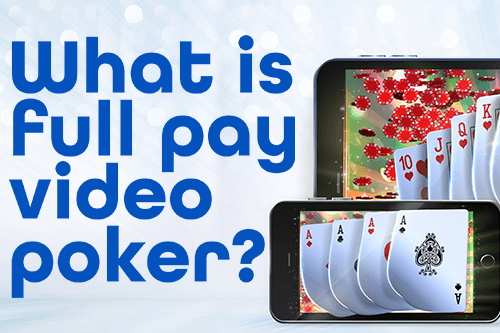 Full Pay Video Poker Explained
Since video poker machines are so similar to slots, they use the same payback system while featuring the rules of five-card poker. There are hundreds of variants available at online casinos, so choosing the right game can make or break your gaming experience.
After all, we're all in it to win money, and picking the highest paying games is the endgame. In many cases, the best paying games are 9/6, which mainly focuses on Jacks or Better. When compared to Deuces Wild or Double Bonus, the payouts are higher for higher-ranking hands.
Low Pay vs Full Pay Video Poker
With full payout games, you need to consider the return to player (RTP) percentage. These percentages are based on thousands of sample hands to calculate the possible returns. For many video poker machines, this is over 98% when you bet five coins per hand.
To calculate the house edge, you will theoretically spend $100 in bets or 100 hands. If the payback is 99.54%, the house edge is then 0.46%. However, this is not a guarantee that you'll win $99.54 when you play.
In low pay games, your chances of losing more money are higher since most RTPs will drop under 98%. With that in mind, your best bet would be the higher-paying games, but they're harder to find than you'd expect at virtual casinos.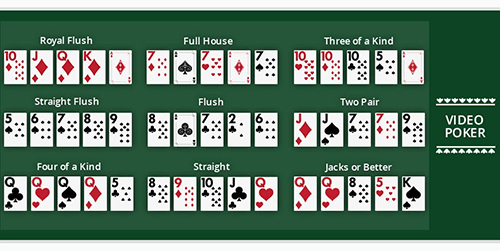 Best High Payout Video Poker Games
While there are hundreds of versions of video poker to enjoy, there are three top games that pay the most when there's a high paytable. We don't recommend playing any variation other than the full-pay to avoid losing more than you'd expect.
1. Jacks or Better Full-Pay
| | | | | |
| --- | --- | --- | --- | --- |
| Jacks or Better Hand | Prize | Combinations | Probability | Return |
| Royal Flush | 800 | 41,126,022 | 0.000025 | 1.9807% |
| Straight Flush | 50 | 181,573,608 | 0.000109 | 0.5465% |
| Four of a kind | 25 | 3,924,430,647 | 0.002363 | 5.9064% |
| Full House | 9 | 19,122,956,883 | 0.011512 | 10.3610% |
| Flush | 6 | 18,296,232,180 | 0.011015 | 6.6087% |
| Straight | 4 | 18,653,130,482 | 0.011229 | 4.4918% |
| Three of a kind | 3 | 123,666,922,527 | 0.074449 | 22.3346% |
| Two Pair | 2 | 214,745,513,679 | 0.129279 | 25.8558% |
| Jacks or Better | 1 | 356,447,740,914 | 0.214585 | 21.4585% |
| All Other | 0 | 906,022,916,158 | 0.545435 | 0.0000% |
| Total | – | 1,661,102,543,100 | 1.000000 | 99.5439% |
2. Deuces Wild Full-Pay
| | | | | | |
| --- | --- | --- | --- | --- | --- |
| Deuces Wild Hand | 1 Coin | 2 Coins | 3 Coins | 4 Coins | 5 Coins |
| Natural Royal Flush | 300 | 600 | 900 | 1200 | 4000 |
| Four Deuces | 200 | 400 | 600 | 800 | 1000 |
| Wild Royal Flush | 25 | 50 | 75 | 100 | 125 |
| Five of a Kind | 15 | 30 | 45 | 60 | 75 |
| Straight Flush | 9 | 18 | 27 | 36 | 45 |
| Four of a Kind | 5 | 10 | 15 | 20 | 25 |
| Full House | 3 | 6 | 9 | 12 | 15 |
| Flush | 2 | 4 | 6 | 8 | 10 |
| Straight | 2 | 4 | 6 | 8 | 10 |
| Three of a Kind | 1 | 2 | 3 | 4 | 5 |
| Theoretical Return | 99.7% | 99.7% | 99.7% | 99.7% | 100.8% |
3. Double Bonus Poker
| | | | | | |
| --- | --- | --- | --- | --- | --- |
| Double Bonus Hand | 1 Coin | 2 Coins | 3 Coins | 4 Coins | 5 Coins |
| Royal Flush | 250 | 500 | 750 | 1000 | 4000 |
| Straight Flush | 50 | 100 | 150 | 200 | 250 |
| Four Aces | 160 | 320 | 480 | 640 | 800 |
| Four 2, 3, or 4 | 80 | 160 | 240 | 320 | 400 |
| Four 5-K | 50 | 100 | 150 | 200 | 250 |
| Full House | 10 | 20 | 30 | 40 | 50 |
| Flush | 7 | 14 | 21 | 28 | 35 |
| Straight | 5 | 10 | 15 | 20 | 25 |
| Three of a Kind | 3 | 6 | 9 | 12 | 15 |
| Two Pair | 1 | 2 | 3 | 4 | 5 |
| Jacks or Better | 1 | 2 | 3 | 4 | 5 |
| Theoretical Return | 99.1% | 99.1% | 99.1% | 99.1% | 100.2% |
Top Full Pay Video Poker Casinos