Are slots better than table games? – Top 10 Reasons
Recently updated on July 30th, 2020
Many gambling advice sites are divided on how you can win more money. Is it better to play slots or table games? That's why we've decided to answer the question: "are slots better than table games?" by comparing the pros and cons.
While both games have their merits, it's essential to know what you're getting into at casinos. On the one hand, you get a lower house edge with table games. On the other, you get more money for one lucky turn of the slot reels.
Of course, there's money involved, which makes a choice more difficult when you just want to have some fun. So, let's take a look at the top ten reasons why slots are better than table games (or are they?).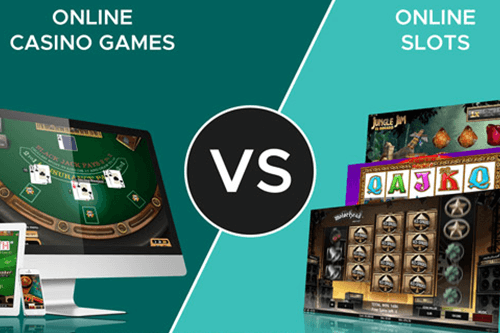 Slots Vs. Table Games
When you compare casinos or games in this case, there are a few things to consider as a whole. Overall, the experience should matter the most, but that's hard to quantify. So, consider these points instead:
| | |
| --- | --- |
| Slots | Table Games |
| 1. You don't need a strategy, just a bankroll, and a budget. | 1. When you play table games, the rules dictate what you can do and when. |
| 2. Overall, you can win more on slot machines than the rest of the casino. | 2. Or, you could win consistently by playing multiple hands or rounds. |
| 3. No other players will bother you while playing slots, and there are more open seats. | 3. Most of the time, you have to play against others or the dealer, so you have to talk a lot. |
| 4. When playing at local casinos, you're more likely to have fewer people nearby. | 4. Gaming tables are always crowded, and people are always watching you to see what you'll do. |
| 5. Generally, you don't have to beat the house, just the machine. | 5. On the other hand, you have very few options to win big and take money from the house. |
| 6. Since slots have so many themes and types, you can't possibly get bored. | 6. While playing at casinos, you'll usually be limited to a few variants of a table game. |
| 7. Overall, the rules are far more straightforward for slots, i.e., match symbols to win. | 7. Then again, some table games have so many rules that it takes a lot of work to understand the game. |
| 8. During gameplay, you can set the pace and spin the reels in your own time. | 8. But at the tables (virtual or not), you have to follow the pace of everyone else. |
| 9. Minimum bets are much lower for slots, ranging between $0.01 and $10 at most. | 9. Most table stakes start at $10 and go all the way to $10 000. |
| 10. When playing online, you can walk away at any time if you're losing. | 10. In the same way, you can leave a game, but you will lose more money. |
So, Are Slots Better Than Table Games?
Based on experience, we can answer "are slots better than table games?" in two parts. First, slots can be better for players who prefer a straightforward experience. While table games are better for skill-based players looking for a challenge.
And second, it depends on how much you want to win and how quickly you want it to happen. Of course, we love both, so we can't choose for you.
Latest News