Gambling Accountant Who Stole NZ$44.8 Million Jailed
Recently updated on July 18th, 2019
An accountant based in Singapore was embezzling over NZ$44.8 million (about US$30.2 million) over a period of 10 years. To fund his extreme gambling addiction was sentenced to 25 years and ten months in prison. The 65-year-old accountant's name is Ewe Pang Kooi; he was born in Malaysia but was currently staying in Singapore.
The accountant was found guilty of 50 charges laid against him for breaching trust as an agent. He misplaced a huge lump sum of money from February 2012 to July 2012. During that period, he had three positions in Singapore – he was the receiver of assets for a certain client, a company liquidator and an agent in charge of operating various companies' bank accounts. Read on below and learn more about this interesting story.
How the Gambling Accountant Was Caught
As previously mentioned, Ewe was a well-known certified liquidator and accountant. He was a managing partner at a successful firm – Ewe Locke & Partners and also a director of a financial consulting and tax firm company. One of his colleagues reported to the media that he was motivated by a ravenous appetite for casino gambling. And that his gambling addiction came at a high price for many. Ewe only managed to deposit back money equivalent to US$17 million and the remaining US$24 million of the stolen money is yet to be recovered.
Ewe took advantage of his roles and misused the funds he was trusted with to cater to his personal benefits and fund his gambling activities. However, his actions affected about 21 companies as they had tapped him as their liquidator, and this includes six subsidiaries of the popular giant – Hewlett-Packard.  As the companies' liquidator, Ewe had control over his clients; assets and bank accounts and so he could easily make payments. He moved money between different companies so as to avoid being caught and the one he'd get his hands on, he would gamble it away.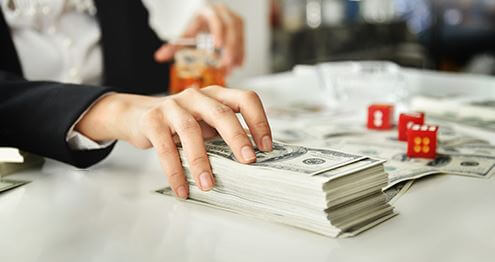 Ewe's scheme was finally exposed by Hewlett-Packard when they started questioning him about certain assets from liquidation. He was left with no choice but to admit that he has misused the funds. He was assessed by a couple of psychiatrists, some of whom reported that Ewe is a pathological gambler. They further explained that it's his condition that tempted him to misuse his clients' funds and treat it like they were his own.  The gambling accountant is said to have been betting large amounts of money, up to NZD$150 000 just for a 'kick.'
Ewe's Comment
In Court, Ewe said that he didn't amass wealth and reap any financial benefit from his crimes. However, the presiding judge for the case said he sees the need for the court to be harsh on the accused so as to discourage like-minded people who work with large amounts of money.