What is the Best Online Blackjack Game?
Recently updated on August 23rd, 2021
The best online blackjack game we could find is Blackjack Surrender because it has a 0.596% house edge and uses six decks. Plus, it features the basic rules of Blackjack, where you can see one dealer card at all times.
If you're looking for even more top online blackjack games, we've broken down our top 10 picks below. We've included everything we know about the game and the best way to beat it.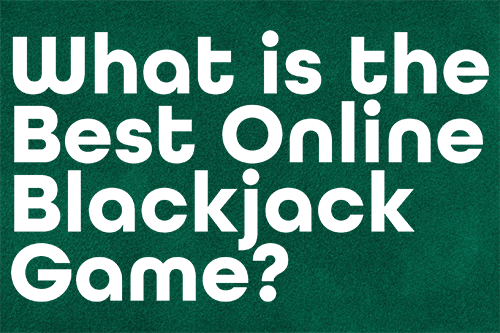 1. Blackjack Surrender: Best Online Blackjack Game

Blackjack Surrender is a unique title from BGaming and is a masterclass in strategising and knowing when to let go. The game features a sleek design and a unique rule that pays back half of your bet when you decide to surrender.
2. Double Exposure Blackjack
Double Exposure is typically a favourite of pro players who want a challenge. During the game, the dealer has to stand on 17, and both cards are exposed. However, it has a 0.7% casino advantage with higher than usual payouts.
3. Multihand Blackjack
There are many Multihand Blackjack games at online casinos we recommend that are fun to play. Your average house advantage is 0.7%, and you can expect varying rules from these titles. We highly recommend playing for free if you're interested.
4. American Blackjack
American Blackjack games are another popular choice for software providers to make. These games use classic rules and payouts, with an average house advantage of 0.5%. We enjoy taking a break to play these games and get easy payouts.
5. 21 Burn Blackjack
Next up is 21 Burn Blackjack games which mark the ability to bet on three hands at once. Another notable facet is that you can Burn one card to exchange your exposed card for a new one. It's a fun game to learn with an advantage of 0.5% from most providers.
6. European Blackjack

European Blackjack games are another spin on classic rules where the dealer must stand on 17 and draw on 16. These titles come in four and eight-deck variants, with a general house advantage of 0.42%.
7. Pirate 21 Blackjack
Pirate 21 Blackjack games are played with six decks and no 10-value cards. However, a few twists up the ante, including a side bet on your hand matching the dealer's hand. You can also play three simultaneous hands in some versions with a casino advantage of 0.76%.
8. Pontoon Blackjack
Pontoon Blackjack games are classic versions but with a special hand (ace and ten) payout. The names of your moves will also be different, but they should be familiar. Also, the house advantage ranges between 0.42% and 0.5% depending on the version you play.
9. Single Deck Blackjack
Playing with one deck of cards presents a different challenge, making Single Deck Blackjack a great choice. It's easier to follow the rules and count cards, even when playing for free. Plus, you can expect a casino edge of 0.40%.
10. Super 7 Blackjack
Super 7 Blackjack games have a high casino edge between 6.54% and 49.88% for different hands. However, it's a rewarding casino game for determined players interested in a challenge. We recommend playing for free until you're confident about your skills.
So, What is the Best Online Blackjack Game for Me?
The best online blackjack game for you will depend on what you're looking to get out of the game. If you want to play and learn the basic rules to master your strategy, you should play European Blackjack games. However, if you want to double down when it's convenient for you, you should play Single Deck or Surrender Blackjack.
Best Blackjack Casinos 2021