BetEasy Launched with Ad Campaign
Recently updated on August 13th, 2018
William Hill Australia is no more after combining with CrownBet as BetEasy. The merger, which was announced in early 2018, will consolidate the Australian betting industry. CrownBet won the bidding process and agreed to stop using the William Hill branding by October. However, their decision to change to BetEasy was far from simple.
Last month, CrownBet announced that they would rebrand as Sportingbet, another brand originally bought by William Hill. Unfortunately, the name was too similar to Sportsbet, and Paddy Power Betfair challenged their trademark application. Sportsbet claimed that bettors would confuse the two. The Federal Court agreed and stopped CrownBet from rebranding temporarily.
William Hill Australia took over Tom Waterhouse and Centrebet in 2013, as well as Sportingbet. Sadly, their gamble never paid off as expected.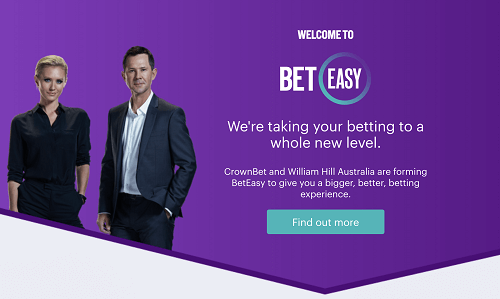 BetEasy Campaigns for Better Betting
A Melbourne firm, The Monkeys, have launched the BetEasy rebrand campaign in Australia. The brand is similar to the former CrownBet, but it's definitely an update. According to their website, BetEasy will be 'A Bigger, Better Betting Experience'. Of course, gamblers will still need to bet easily and follow gambling regulations.
CrownBet is aiming to provide 'a new tone and standard' in the gambling industry with their brand. However, they have a lot to work on with the current state of the AU market. This includes a point-of-consumption tax in every state and further law changes.
More Betting
While CrownBet and William Hill Australia are old hands in the gambling industry, they have an opportunity to move with the times after the rebrand. Their campaign features two young celebrities, Ricky Ponting and Nicky Whelan as ambassadors. Ponting is a household name as a cricket star, while Whelan has starred on Neighbours and House of Lies.
Hopefully, BetEasy will fare better than William Hill. The Australian branch 'underperformed' from 2013 until 2018, leading up to their sale.