Can You Cheat at Video Poker?
Simply put, you can cheat at video poker with mixed results, but you'll need to dedicate some time to it. While winning more from hacking video poker might seem tempting, it takes a lot of effort to accomplish.
Still, it's possible to game the system when you play video poker, though we recommend staying on the right side of the law. With that said, here are the recommended hacks that you'll commonly see.
Popular Ways to Cheat at Video Poker
Since most guides use "cheats," "hacks," and "tips" interchangeably, it might seem like everything is allowed. In these breakdowns, we'll let you know why you can't pull off some of the most common "tips":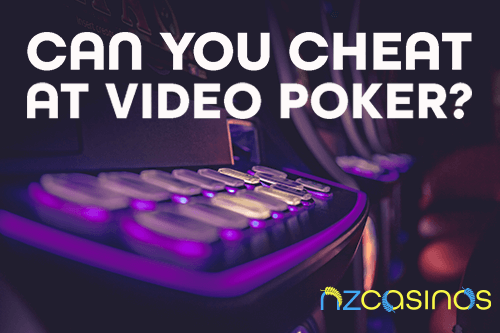 1. Using Cheat Sheets
Most casinos will let you use cheat sheets with the card rankings for the game. Some games also include these rankings, though it's difficult to utilize them on some machines. One thing you should keep in mind is that you will be monitored while gambling, especially at online casinos.
2. Hacking Video Poker Machines
Hacking is a criminal offence in many countries and will get you banned from casinos for life. Any player caught meddling with video poker games will find themselves in handcuffs. So, avoid the sites offering "foolproof" software for cheating video poker.
3. Tricking Games into Free Hands
One of the oldest tricks is to use some fishing line and a nickel on physical machines. Once your turn loads, you pull out the coin. Nowadays, machine operators have replaced coins with bills and vouchers, which can still be toyed with.
4. Use Electronic Strategy Software
Creativity is rampant online with software that chooses which cards to keep and discard. There are some programs on the web that play for you and predict your winning odds. Using calculators similar to random number generators, the software calculates the odds of the next hand.
5. Exploit Machine Glitches
Some electronic casino games, like video poker, have bugs that you could exploit to win more. A notable example from 2009 involved John Kane and Andre Nestor. The two found a glitch on IGT's The King machine. When they used the Double Up feature, the game would always payout.
Should You Cheat at Video Poker?
No, avoid the temptation of trying to cheat at video poker just to win money. It's not worthwhile for the average player because your winning chances remain the same.
The machines offered at online casinos are impossible to cheat, so it's better to play them as is.