Mandalay Bay Resort Releases Security Video of Shooter
In the aftermath of the mass shooting in Las Vegas last year, many have questioned the security measures of the Mandalay Bay hotel. On October 1st, Stephen Paddock opened fire on a country music festival from his hotel room. Paddock killed 58 people before turning his gun on himself. A security officer at the hotel was also shot while investigating the noise on Paddock's floor.
Since the tragedy, critics have questioned MGM Resorts, who own the Mandalay Bay. According to them, MGM should have investigated Paddock when he brought more and more luggage to his room. Mr Paddock checked into the hotel on 25 September with only a laptop case. Over the course of his stay, he appears to have moved 24 guns and ammunition into his room. MGM Resorts have been criticised for not taking note of the luggage being moved in.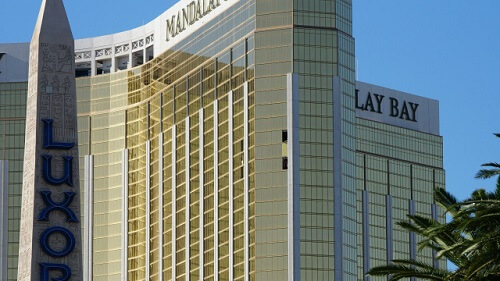 Mandalay Bay Claims
According to the operator, the security videos prove that Paddock was behaving 'normally.' At the time, he was a high-stakes video poker player and a regular at the resort. However, almost an hour's worth of security footage proves that he was moving a suspicious amount of luggage into the room. The operator claims that they 'could not reasonably foresee' that he would carry out his plans.
This is not the first time the casino operator has shared information about the shooting. Almost 30 days after the tragedy, they revealed a recording taken by the security officer, who went to investigate a blocked door on Paddock's floor. This revealed that the door had been barricaded on the floor leading to a staircase. It was then that the security officer, Jesus Campos, reported shots being fired. He would have to go around reach Paddock's door. Campos was shot in the leg before other security officers could arrive on the scene.
Aftermath of Mandalay Bay Shooting
Investigators have yet to find a motive for the shooting, which has been frustrating the families of those killed or injured in the tragedy. Despite this, all resorts in Las Vegas have now taken steps to prevent similar shootings. These include stricter checks, tighter security measures and other pre-emptive security solutions. However, these are no guarantee that similar events will take place.