Playson Holiday Delights Tournament & Prize Information
Get into the festive spirit with the Playson Holiday Delights network tournament, running from 10 December until 10 January 2021. This three-part tournament series features a prize pool worth a whopping €200,000 and features new games set to spread seasonal cheer.
The tournament series is set to introduce you to some of the developer's best games of the year. Kicking off the countdown is €50,000 Festive Spirit, followed by €80,000 Secret Santa, and €70,000 Welcome 2021. Keep reading for a quick breakdown and the casinos taking part.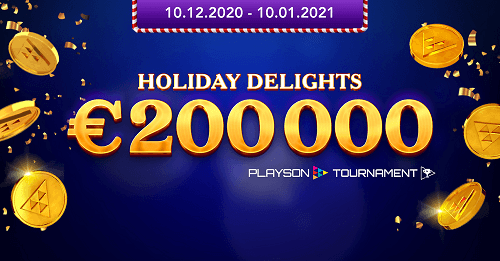 Playson Holiday Delights Tournament Series Details
Even if you don't celebrate Christmas, this three-part tournament pays out generously. You can climb the leaderboards and jingle the bells this winter to earn these prizes:
| | | |
| --- | --- | --- |
| Festive Spirit Position | Prize | Payout |
| 1 | €8,000 | €8,000 |
| 2 | €5,000 | €5,000 |
| 3 | €2,500 | €2,500 |
| 4 | €1,500 | €1,500 |
| 5 | €1,000 | €1,000 |
| 6 | €900 | €900 |
| 7 | €800 | €800 |
| 8 | €700 | €700 |
| 9 | €600 | €600 |
| 10 | €500 | €500 |
| 11-25 | €6,000 | €400 |
| 26-50 | €7,500 | €300 |
| 51-150 | €10,000 | €100 |
| 151-250 | €5,000 | €50 |
| | | |
| --- | --- | --- |
| Secret Santa Position | Prize | Payout |
| 1 | €15,000 | €15,000 |
| 2 | €5,000 | €5,000 |
| 3 | €2,500 | €2,500 |
| 4 | €2,000 | €2,000 |
| 5 | €1,500 | €1,500 |
| 6 | €1,000 | €1,000 |
| 7 | €900 | €900 |
| 8 | €800 | €800 |
| 9 | €700 | €700 |
| 10 | €600 | €600 |
| 11-25 | €6,000 | €400 |
| 26-50 | €7,500 | €300 |
| 51-150 | €15,000 | €100 |
| 151-250 | €15,000 | €50 |
| | | |
| --- | --- | --- |
| Welcome 2021  Position | Prize | Payout |
| 1 | €10,000 | €10,000 |
| 2 | €5,000 | €5,000 |
| 3 | €3,000 | €3,000 |
| 4 | €1,500 | €1,500 |
| 5 | €1,000 | €1,000 |
| 6 | €900 | €900 |
| 7 | €800 | €800 |
| 8 | €700 | €700 |
| 9 | €600 | €600 |
| 10 | €500 | €500 |
| 11-25 | €6,000 | €400 |
| 26-50 | €7,500 | €300 |
| 51-150 | €15,000 | €100 |
| 151-250 | €15,000 | €50 |
2020 Holiday Delights Tournament Series: Featured Games
Qualifying games are listed below, including the new release from Playson:
[NEW] Legend Of Cleopatra: Megaways
Buffalo Power: Hold And Win
Solar King
Solar Queen
Pearl Beauty: Hold And Win
Burning Wins: Classic 5 Lines
Diamond Wins: Hold And Win
Sunny Fruits: Hold And Win
Book Of Gold: Multichance
Solar Temple
Participating Casinos