Hard Rock Casino to Close Temporarily for Virgin Hotels Renovations
Recently updated on August 19th, 2019
The Hard Rock Hotel and Casino in Las Vegas will close temporarily starting in February 2020 for renovations. The scheduled revamp will add as part of the property's rebranding, since it was sold to Virgin Hotels in 2018. While the rebranding alone will be completed by the end of 2019, the building renovations will take approximately eight months as of 2020. The new name for the hotel and casino will reportedly be Virgin Hotels Las Vegas. Find out more on the story below.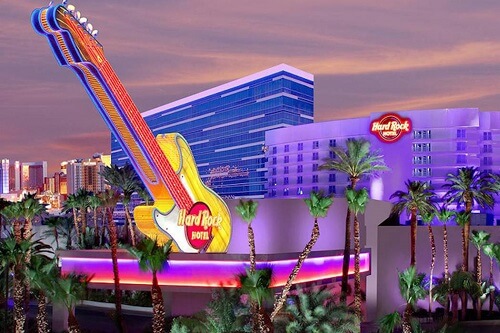 Hard Rock Casino Soon to Be Virgin Hotels Las Vegas
After the property's purchase last year, Virgin Hotels announced its plans to close for four months to allow for remodelling and rebranding. However, the operators have decided to shut down for the duration of the entire renovations, which will be eight months.
JC Hospitality President and CEO Richard "Boz" Bozworth, said in a statement that: "We determined that a phased closing of four months, followed by a total closure of four months was not efficient from a construction process nor could we provide a hospitality service experience our guests deserve."
"An approximate eight-month closure would be most efficient and ensure a timely opening prior to January 2021," Bozworth added. "We might be ready in October, but construction is an imperfect process. Until early February 2020, it is business as usual at Hard Rock Hotel & Casino Las Vegas."
The Scheduled Renovations
The five-acre pool deck is among the structures that will be revamped. Whereas, the casino floor will be upgraded and enlarged. The 1 500 hotel rooms will also get a facelift in addition to the conference space being expanded. There are also new restaurants set to open.
Hard Rock Casino was founded in 1995 and sits 17 acres at Harmon Avenue and Paradise Road in Nevada.Bozworth refused to comment on the purchase amount for the property. More so, the parent conglomerate for the Virgin Group operates more than 400 companies in different sectors.
"Virgin Hotels Las Vegas promises to be one of the most exciting, vibrant, and anticipated properties to open in Las Vegas in years," added Bozworth.
More Recent News: