SkyCity Entertainment Group Financial Results Released
Recently updated on August 14th, 2019
New Zealand based company, SkyCity Entertainment Group, responsible for three casinos, has not managed to achieve a high turnover in the previous fiscal. This has been attributed to players from Asia and Australia. In their recent financial reports, SkyCity Entertainment Group announced that revenue has dropped by 2.5% in the financial period ending June 30, 2018. The actual revenue reported by the entertainment group amounts to NZ$905.4m.
A lot has happened at the SkyCity Entertainment Group this last year. In April, the company sold off its casino in Darwin, Australia. The proceeds from the sale were excluded from the current financial report though.
Then, in the last week, they've announced that they are launching a new online casino platform. This is in partnership with the Malta Gaming Authority. Many have stated that they believe this move was in an effort to force the NZ government to look into internet gaming regulation.
SkyCity Entertainment Group Results in Numbers
SkyCity Entertainment Group, as we had previously mentioned, has three casinos operating in New Zealand and Australia. These are SkyCity Auckland, SkyCity Adelaide as well as the newly launched casino site SkyCityCasino.com. The Auckland property revenue increased by 3.9% compared to the previous fiscal year, with a revenue of NZ$606.7m. The Adelaide property has unfortunately suffered a decline in revenue of about 2.9%. The current numbers stand at NZ$148.7m in revenue.
Adelaide Casino, known as SkyCity's flagship property, garnered a record turnover over of NZ$14.1 billion accredited to international high-rollers. However, there are fears that VIP players from abroad might decrease their trips to this casino as federal inquiries commence. These investigations are based on the possibility of enlisting international players that have links with criminal organisations in China.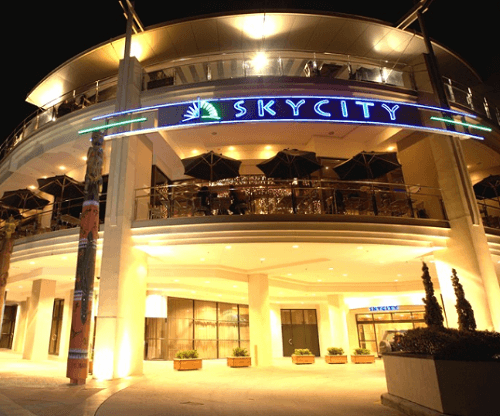 SkyCity Officials Comment
On the back of the federal inquiries, Graeme Stevens, SkyCity Entertainment Group Chief Executive, has responded to the investigations. Stevens stated that these investigations have added some level of uncertainty to the high-roller business that the company has been getting.
He further added that the International VIP aspect has proven lucrative.  He was quoted as saying "We're not sure what that means for us, so that's added another layer of uncertainty in a world which is inherently difficult to predict."
See Other Articles Below: