Is Blackjack and 21 The Same Game?
Recently updated on August 11th, 2021
Yes, Blackjack and 21 are the same game, but you might find some online casino games with different rules. For example, two online blackjack games, Spanish 21 and Pontoon 21, have similar rules, with a few twists.
You might encounter Blackjack and 21 as names for the popular card game wherever you are in the world. But you don't have to worry about learning many new rules or changing your existing strategy. With that said, let's get into some important facts you need to know.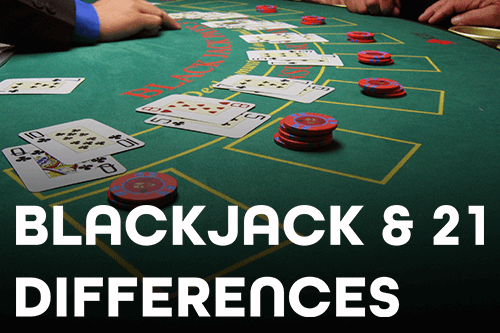 Why Do Players Think that Blackjack and 21 are Different?
Most players believe that Blackjack and 21 are different because of Spanish 21 and similar versions. Since you can discover many variations online from multiple casino software providers, it can get confusing.
Still, they all feature the basic rules of single-deck Blackjack, with some differences for each game developer. Some will have bet limits or add insurance bets from the equation. Others will remove cards from play, like Spanish 21, which is not played with the Jack, Queen, King, and ten.
Insurance bets in regular Blackjack pay 2 to 1, but Spanish 21 side bets payout even more.  Some Spanish 21 wagers, like a 5-card hand, pay 3 to 2 or 2 to 1 for a six-card hand.
Typical Blackjack and 21 Rules
When you play at a virtual casino, playing Blackjack and 21 is uncomplicated, and the rules are easy to follow. These are the typical steps to playing Blackjack:
The game starts after you place your initial bet on the table.
The dealer then deals out your first two cards, and they will receive the same.
Depending on the variant, one of the dealer's cards will be face-up.
Then, you can choose whether to hit, surrender, double down, stand, or split your hand.
You can also draw another card if your hand total is low.
If the dealer has 17 or more, they will stand, but they will hit on 16 or lower.
If your hand is better than the dealer's, you win your bet back and any side bets.
Types of Blackjack and 21 Games
Hundreds of variants are available these days, so we hand-picked our favourites to help you start playing.
Blackjack Switch
Free Bet Blackjack
Spanish 21
Super Fun 21
Pirate 21
War Blackjack
Face Up/Double Exposure
Zappit
European Blackjack
American Blackjack
Pontoon – British Blackjack
Buster Blackjack
Bonus Blackjack
California Blackjack
Double Attack
Pitch Blackjack
Multi-Hand Blackjack and 21
Chinese Blackjack
Play Blackjack at Online Casinos
If you want to dive straight into playing online Blackjack, take a look at our top casinos for NZ players. We highly recommend these sites for an exciting table game experience.
The best part of choosing to play online is that you can go single-player or multiplayer. Plus, you don't need to wear pants at home!