NETENT Creates Ozzy Osbourne Pokie
An upcoming Ozzy Osbourne themed pokie game from Netent is the buzz this week. The casino game developer released a press statement announcing the development. This is a treat for fans of Rock and pokies alike. The famous rock singer Ozzy also know as The Prince of Darkness will have a whole online pokie dedicated to his charismatic self. We can only wonder what part of the Rock legend's illustrious career will make up what we believe will be an intensely engaging fun slot.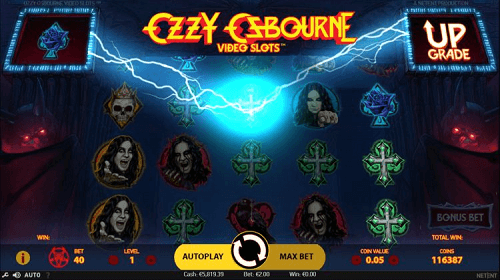 More About Netent's Latest Inspiration
You may not know Black Sabbath, but you've definitely heard of the name Ozzy Osbourne. If not, you may know his wife and daughter Sharon and Kelly Osbourne. Sound more familiar now? Well Ozzy began his rock career in the iconic rock ban Black Sabbath around the 70s. Later just before 1980 he struck out on his own and sold over 100 million albums as a solo act. We are confident the slot game Netent is developing will be as big a hit as his career has been.
This is not Netent's first rodeo with rock legends. They have made an online pokie of the ultimate rock star Jimi Hendrix, as well as a Guns n' Roses pokie game. Judging from how the previous rock themed pokies went, we cannot wait to get our hands on the game.  The casino game developer seems to have a knack for turning pop culture icons into money making pokies. For instance, they have mad pokies inspired not only by rock musicians but by film as well. we are immediatedtely reminded of the Jumanji pokies and Planet of the Apes pokies amongst others.
What Ozzy Osbourne Thinks of the Upcoming Pokie
The rock legend has not commented on the pending pokie game from Netent. The whole deal to immortalise his legacy in a casino game was handled by his brand merchandising partner. Global Merchandising Services (GMS) has worked with Netent before to bring a rockstar's legacy to the reels. They have confidence in the gaming software developers' abilities. We wait with baited breath for the game to drop. We will keep all our Kiwi readers with any other developments.
More Casino News