Online Video Poker FAQs Guide
Recently updated on August 29th, 2019
New Zealand players that may have queries about online video poker games have landed on the right page. Our all-inclusive guide features popular video poker FAQs that are answered by our expert gamblers.
You will not go wrong with our useful tips on how to win in video poker. Similar to the brick-and-mortar casino card game, you need to employ some basic strategy to win. There are frequently asked questions about video poker NZ games that players ask all the time.
Take some time to go through the most popular video poker FAQs questions and answers to find out how to become a poker pro. We unpack all of the video poker machine secrets that have prevented players to win at video poker every time. Check out our shortlist of the best online casino NZ sites to play video poker games with better insight into the gameplay.
Best Video Poker Casinos
Video Poker FAQs
How Does the Random Number Generator Work?
In video poker, a Random Number Generator (RNG) is designed to generate a sequence of outcomes that do not have any discernible pattern, therefore appear to be random. This computer algorithm is used to ensure that results are not rigged and players have a fair shot at winning.
How Does Video Poker Work?
Internet video poker games are played using a standard 52-card deck. Players need to make a pregame stake then they will be dealt five random cards by the machine. You will be given the option to keep the cards, discard some of the cards or fold the round. After the decision has been taken, the computer will display the cards that will represent the house and you need to have a better hand than the dealer to win.
Is It Illegal to Play Video Poker Online?
In New Zealand, it is legal to play online video poker games for money. The are several free games that players can take advantage of in order to hone their skill and then move on to real money games. If you are interested in playing video poker for real money, there are web-based casinos that are recommended for Kiwi players that are licensed and regulated by the proper authorities.
What Is Multi-Hand Play?
Multi-Hand play video poker is a variant of the casino game that allows players to consist of more than one hand in a game. The gameplay on multi-hand video poker offers an additional chance to win with more than one hand but it comes at a price.
Is There A Strategy to Playing Video Poker?
There are several ways of playing video poker that has led to wins for NZ players. Internet gamblers have often sought out the help of pro poker players to provide assistance in how they approach video poker tournaments. Some players rely on setting up their hand to have royal flushes to get a high score in order to win. There are also different video poker strategies that you can employ that offer you the best possible chance to win.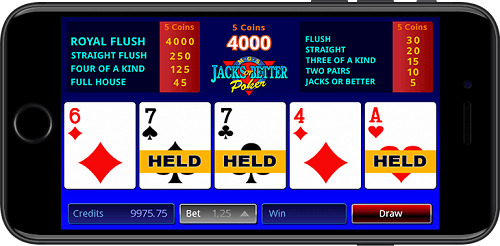 Is A Video Poker Machine Comparable to A Video Slot Machine?
While video slot machines may share similarities with video poker games, the only similarities they have are only represented by the simulated gameplay of casino games. One format uses a deck of 52 cards while the other features reels that spin to get the outcome. The most striking difference between the games is that the payouts are very dissimilar. While you can crack a life-changing jackpot prize playing pokies games, the payout percentage on video poker games is much higher than on slot machines.
Which Do You Keep Between A High Card and A Low Pair?
Depending on the hand, the most common approach that pro poker players use is always keeping the low pair. This is because a high card does not always create a winning hand that ranks better than the dealers. If you have a straight, which consists of an Ace, four cards of the same rank will win the round as it ranks higher than a full house.
How are the cards dealt in video poker?
Internet video poker gameplay uses a standard 52-card deck that is dealt between the players and the dealer. Players must first make their bet and select the "Deal" option, to request the draw. The computer machine will randomly deal five cards and you will have the option of keeping cards will create a winning combination or discarding certain cards that do not help you in that regard.
More Helpful Video Poker Guides