Video Poker Rules
Recently updated on June 14th, 2019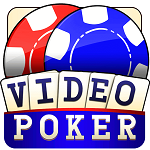 Many people say that video poker rules are pretty simple to learn. As you know, there are many gambling sites in New Zealand where you can find a video poker game. If you are a beginner video poker player, the rules may be quite confusing for you. It doesn't help either to have so many video poker variations that have their rules. These are some of the reasons we thought it was essential to create a guide concerning rules for playing video poker.
The fundamental rules of video poker are the same as those of the standard poker on the internet. There are slight differences that you will have to take account of when you are playing a variant of video poker. When you play video poker, you are mainly playing against the computer and not the dealer or other players. Playing video poker on the internet is the same as playing at a land-based casino, except there are not real coins. Getting a hand of the same suit (diamonds, hearts, clubs or spades) with consecutive numerical cards can be very good for you.
Top Casinos to Play Video Poker
Main Video Poker Objective
The main objective when you are playing video poker on the internet is to form the best possible hand. You can do this by making several decisions about which cards to dismiss and which cards to keep. If you are playing for fun and you are not interested in playing for real money, then you don't need to form a strategy. However, if you are one of those who want to win some money while playing, then you need to develop a strategy. Knowing video poker rules is very important in helping you form a good strategy. When playing video poker on the internet, the steps are pretty simple:
Place your bet.
Once you have placed your bet, press the 'deal' button to receive your cards.
Choose the cards you want to keep and those you want to dismiss.
After doing that, you can click on the 'draw' button for your cards to change then wait for the outcome.

Hand Rankings
Hand rankings in video poker are significant. If you have a better ranking hand, the payout will be high, which means more money for you. Understanding what the different poker hands mean could prove beneficial for you. See the definitions we have created for you:
Jacks or Better – Any pair that is made up of jacks or cards of a higher ranking will win the round.
Four-of-a-kind – This is a hand that has four cards with the same value; these cards can belong in different suits.
Full House – This hand involves holding three cards with the same numerical value, plus one pair — for example, 5,5,5, Q, Q.
Flush – a flush means that you have cards in the same suit that are not in order.
Straight Flush – If you have five cards of the same suit that are in sequential order, then you will have a straight flush. This hand is considered one of the best hands you could have in video poker.
Royal Straight Flush – This is by far the best hand you can have in video poker. This hand involves a ten, a Jack, Queen, King and an Ace that belong in the same suit.
Straight – if you have a hand with five consecutive cards that belong in different suits, this will be considered a straight hand.
Three-of-a-kind – This is a hand that includes three cards of the same value plus two cards that are of a different value.
Two Pair – This is a set of two sets of pairs that have the same value and one other card.
See More Video Poker Guides: