Best Video Poker Strategy
Video poker is one of the most-played casino games online. This is because it has the best odds and it is one of the simplest games to learn. You may have already familiarised yourself with the game on our video poker guide. Nonetheless, in order to win at video poker you need to employ a proven strategy. Regardless that it is a game of luck, if you play video poker smart, you have a chance at winning. That's why our gambling experts have put together this video poker strategy guide.
You don't want to be like other beginner players who just dive in and play the game without being aware of how it works. Here, you will learn how to apply the basic video poker rules in order to win when playing the game online.  We discuss the basic video poker strategy and how you can use it beat Jack or Better and Deuces Wild machines. Start learning on our guide below!
Best Video Poker Casinos
Casino Video Poker Strategy – The Basics
The fundamentals for video poker are pretty simple.  The game is played using a 52-deck and players are dealt five cards in each round. You have a choice of keeping and discarding your dealt cards using appropriate buttons displayed on the screen. If you land a traditional poker hand such as a straight, flush or two pairs your winnings are paid out depending on the paytable of the video poker machine that you are playing. So, the pro tip here is to select a machine with a good paytable, for instance one that pays 9 & 6 for a flush or a full house. Also, don't forget that the payout also depends on the hand you have. The better the hand, the larger the payout.
More so, in order to win video poker games – you need to familiarise yourself with the different video poker hands. Generally, you will want to hold on to cards that are already in winning combinations. However, things can get a little bit complex when difficult decisions present themselves. For instance, you may have to choose between holding onto an obvious hand which has a low payout or take a risk, discard a certain card in hope for a new one which will give you a much stronger hand resulting in a larger payout.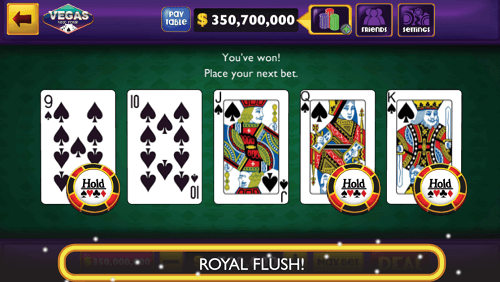 Video Poker Strategy Chart
Below is a quick overview of what each hand pays out on a standard video poker machine. This will help you identify which video poker hand is perfect to keep.
Pair – pays 1
Two pair – pays 2
Three of a Kind – pays 3
Straight – pays 4
Flush – pays 6
Full House – pays 9
Four of a Kind – pays 25
Straight Flush – pays 50
Royal Flush – pays 800
More on Strategies for Playing Video Poker
It's important to remember that video poker has different variations and each may have a very specific strategy. For instance, in Deuces Wild, you will need at least three-of-a-kind to win. The payouts and house edge also differ when compared to Jacks or Better.   This means you will need a more narrowed down strategy for each. We are not saying that our strategy doesn't apply to both, but this is a general strategy. In addition to the basics that we provided you with, remember to always bet the max amount – just not above your head. If you bet the maximum coins and land the royal flush your potential return may be 4000-to-1 on a full payout machine.
More Video Poker Guides: