How to Play European Roulette
Recently updated on January 4th, 2021
Playing online roulette means having access to far more variants of the casino game to choose from. One choice, European roulette, is one of the best to play because it has a low house edge. This single zero roulette game offers you better payouts and chances of winning than most.
Of course, there is a trick to it, which is why we've created this standard European roulette guide to help you get started. In this guide, we'll go through the roulette table, European roulette wheels, and strategies you need to win.
Best European Roulette Casinos
How to Play European Roulette
Like all table games online, this variant is straightforward and easy to follow. Of course, this depends on the software provider. The European roulette table is laid out exactly like standard Roulette, with Inside bets and Outside bets set out for players to choose from.
However, online European Roulette will use a Random Number Generator to release the ball into the wheel. This ensures that wherever the ball lands are completely random.
Step-by-step guide
Choose an online casino and pick a version of European Roulette.
Check your bankroll and ensure that you can walk away when you need to.
Choose your stake, if the game allows you to.
Place your bets.
Watch the Roulette wheel and claim your winnings if you get lucky.
Place the same bet, or choose a new one and spin again.
Bets for European Roulette are standard but without the double zero. Check out the best bets on our Online Roulette guide.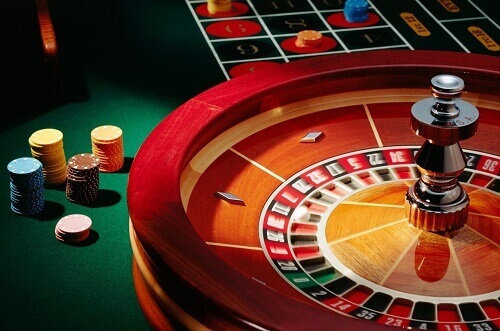 Odds & Payouts
| | | |
| --- | --- | --- |
| Type of Bet | Potential Payout | Odds |
| Column | 2 to 1 | 32.40% |
| Dozen | 2 to 1 | 32.40% |
| Even bets (even/odd, red/black, low/high) | 1 to 1 | 48.60% |
| Single number bet | 35 to 1 | 2.70% |
| Two numbers | 17 to 1 | 5.4% |
| Three numbers | 11 to 1 | 8.1% |
| Four numbers | 8 to 1 | 10.8% |
| Five numbers | 6 to 1 | 13.5% |
| Six Numbers | 5 to 1 | 16.2% |
European Roulette Strategy
European roulette is a popular choice for many well-known strategies because of the lower house edge. Generally, it would help if you used any of these strategies to get winning number combinations:
Fibonacci Strategy – this is one of the most popular progression betting systems in roulette. Basically, you use the Fibonacci sequence to increase your bets to increase your eventual winnings.
James Bond – while you play, this system basically tells you to place bets on the table of a certain value. It has a chance of winning, but you usually lose the higher odds bets.
D'Alembert Strategy – this strategy boils down to increasing and decreasing your bets by one unit if you win or lose.
Martingale System – this famous system has you double your bets when you lose and leave them if you win.
Reverse Martingale System – instead of increasing on your losses, you increase on wins with this bet.
Tips and Tricks
When playing European Roulette, there are a few tricks you can use to maximise your bankroll. Here are just a few tips for our roulette players to use while playing this gambling game online.
Hedge your wagers by using outside bets such as red or black and column bets.
You can bet on up to 8 neighbouring pockets at a time.
Bet the max stake on zero if you can.
Straight bets payout 35 to one but very rarely happen.
Try playing Roulette online before going to a land-based casino to get familiar with the game.
More Guides