How to Play 3 Card Poker
Recently updated on October 27th, 2017
Online poker is one of the most popular table games in New Zealand, with hundreds of variants available to online casino players. One variant, 3 Card Poker, is a newer twist on traditional poker. This game is played with three cards, and follows the same set up as traditional five card pokers. However, the final showdown only features three cards ranked according to standard poker hands.
The game was created by Derek Webb in 1994, and was patented in 1997. He invented the game to offer higher payouts and a good house edge, while being easy to understand by players. It was first played at a casino in Mississippi, USA after failing to gain traction in Nevada. Since then, the skills-based poker variant has become one of the most popular table games all over the world.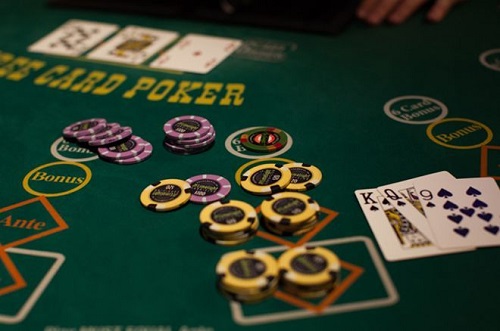 Top Poker Casinos in NZ
How to Play – 3 Card Poker
Playing the game is straightforward if you are familiar with other pokers. At the start of the game, Kiwi players can choose to make one of two wagers, Ante and Play. In some versions of 3 Card Poker, the Ante bet is compulsory. However, this will depend on the land-based or online casino where the game is played. At casinos online, this will depend on the software developer offering 3 Card Poker.
Step-by-step guide:
Firstly, Kiwi players will need to place their Ante and Play bets.
Next players will be dealt three cards.
They will then need to make a Play bet which means their hand ranks higher than the dealer's.
Or, casino players can choose to make a Pair Plus bet on the quality of their hand.
Then, the dealer's hand will be revealed in the showdown, and winning bets will be paid out.
Hand Rankings
In most versions of online poker, there are certain hand ranks that decide the winner. Each game is played with a standard 52 card deck. Keep in mind that there are no ranks for different suits. Additionally, the same hands for any ranks are considered tied. So, here are the hand ranks for 3 Card Poker at NZ online casino sites.
High Card – the three cards must be of different ranks, and not consecutive or from the same suit. For example, a Queen, ten and a seven of different suits.
Pair – two cards of equal rank, with one different rank. A winning pair needs to have a higher different card.
Flush – three cards from the same suit compared like a high card hand.
Straight – three consecutive cards from the same suit, higher ranked cards make a winning hand.
Straight Flush – similar to a straight hand, with the Ace counted as high or low to win.
Three of a Kind – three cards with the same rank, but higher ranking hands win.
3 Card Poker Strategies
Just like other Poker games, there are no sure-fire strategies to win every hand. However, being familiar with Poker and the hand ranks helps players to stick to their guns. Some experts advise not placing the Pair Plus bet without an Ante bet. Also, the house edge depends on the software provider and the casino offering the game.
More top  Poker guides