Caribbean Stud Poker – Rules, Strategies & Bets
Caribbean Stud Poker is an exciting poker variant that is similar to Seven Card Stud. Since this variant has a low house edge (5.2%), your odds of winning are higher.
In this guide, we'll walk you through the basic rules, how to play it, and some strategies you can use to beat the dealer. Plus, the best online casinos are offering it for real money.
Popular Caribbean Stud Poker Casinos
Caribbean Stud Rules
Like many other stud variants, you'll receive five cards face-down after placing your initial bet on the table. Then, the dealer will deal out their cards and flip one card over to show the table, allowing everyone to see.
Once the card is flipped over, you have to review your hand and decide if you want to double your Ante bet or fold. You have to make a bet or fold your hand in Caribbean Stud games. If you decide to fold, though, you'll lose your bet and have to wait until the end of the round.
How to Play – Caribbean Stud Poker
Playing Caribbean Stud Poker is straightforward, so dive right in with these basic rules for playing this version of online poker.
Firstly, players must place an 'ante' bet and choose to make a $1 progressive jackpot bet.
All players will be dealt five cards, each placed face down. More so, the dealer's cards will have one card set face up.
If a player chooses to fold, all bets and cards are forfeited on the poker table.
When players choose to raise, they must bet double the ante.
The dealer will turn over the other four cards to qualify if they are an ace and a king or higher.
If the dealer's hand is an ace, king, four, three, and two, they will hold the lowest qualifying hand.
The highest hand will be an ace, jack, king, queen, nine, and ten (Royal Flush). However, this five-card hand will not qualify in the game for the dealer.
Lastly, a side bet is based on the player's poker hand's value.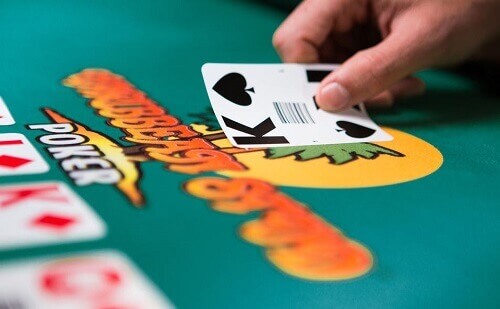 Hand Rankings
Royal flush – A, K, Q, J, 10, all of the same suit
Straight flush – Five cards in a sequence, all in the same suit: e.g., 8 7 6 5 4
Four of a kind – All four cards of the same rank: e.g., J J J J 7
Full house – Three of a kind with a pair: e.g., T T T 9 9
Flush – Any five cards of the same suit, but not in a sequence: e.g., 4 J 8 2 9
Straight – Five cards in a sequence, but not of the same suit: e.g., 9 8 7 6 5
Three of a kind – Three cards of the same rank: e.g., 7 7 7 K 3
Two pair – Two different pairs: e.g., 4 4 3 3 Q
Pair – Two cards of the same rank: e.g., A A 8 4 7
High Card – Any hand with a jack or better, the dealer qualifies on this card
Caribbean Stud Poker Strategies
Some of the best Caribbean Stud Poker strategies are listed below, though we at NewZealandCasinos always recommend trying out your own.
If a gambler holds a pair or higher, they should raise their bets.
However, players should fold if they are dealt less than an ace or king.
If a player holds a queen or jack, they should also choose to raise.
Overall, the game has a lot going for it, and we do recommend trying a few hands in free play mode. Once comfortable with the pace of online Caribbean Stud Poker games, play for real money at one of our top casinos.
Other Poker Guides