How to Play Irish Poker
Irish poker is a mixture of the classic Texas Hold'Em and Omaha poker variations. This form of poker takes all the advantages and fun aspects of the two older variations and meshes them to create an even better game. (There is also a semi-popular drinking game named similarly to the poker game, but it has no relation to the game and was probably named as such for stereotypical reasons.) Although this variation of poker is not quite as popular in New Zealand as other more famous poker games, there is still a lot of fun to be had while playing it online.
If you're unsure of how Irish poker works, we have created the ultimate game guide down below. Here we teach Kiwi players exactly how to play Irish poker. Then, go through a brief rundown of the rules of the game. Finally, provide players with a list of online casino sites that have the game available in their library.
Top Irish Poker Casinos
What You'll Find On This Page
How to Play Irish Poker
As previously mentioned, Irish poker online is a mixture of Texas Hold'em and Omaha poker. If you are familiar with either of these two games, you should pick up the game pretty easily. Here is a step-by-step guide detailing how to play:
Step 1: Buy-in – As with all poker games, players begin a round with an ante bet, before receiving any cards.
Step 2: Dealing – After each player has placed their bets, they are dealt four cards. However, they are required to discard two of these cards after the flop is dealt (or in plainer terms, the community cards are revealed.)
Step 3: Flop – After the flop has been revealed, the game continues as if a round of Texas Hold'em. Players can choose to add to the bet on their hand, or fold. Thereafter, another community card is revealed.
Step 4: Final Community Card – Players then have the option to bet again, and then the final community card is revealed. Based on this information, players then have the chance to make one last bet before the showdown.
Step 5: Showdown! – Players reveal their hands to one another and the winner is decided.
Step 6: New Round – It is now time to begin another game!
Irish Poker Rules
The rules for Irish Poker don't really deviate too much from Omaha or Hold'em. As mentioned above, the game begins with an ante or blind bet. If you are playing with real people, this will usually be posted by the player to the left of the dealer.
Players will then get four cards, but will need to discard two when the flop is revealed. Players then continue to bet as if they were playing Texas Hold'em, with all bets starting with the player to the left of the dealer button.
In general, we recommend that Kiwis who are looking for a fun game that does not feature the dramatic swings of Omaha poker, but still inhabits some unpredictability have a good look at Irish poker.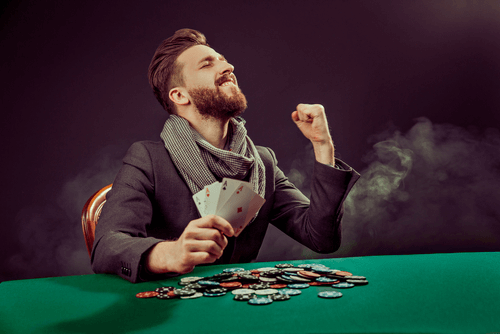 Best Irish Poker Strategy
It is recommended that players try to stick to using standard Omaha strategies while playing Irish poker. This means that players should be looking to make and bet on hands that feature:
Big double pairs
Double suited hands
Straights
If you are unable to make any of these combinations with your hand, you may have to try and make a better one by discarding relevant cards. It is important to note that you shouldn't rely on top pairs in this poker variation, as there is probably a player with a better hand then. In addition, don't bet on bad hands, unless you aren't playing for real money as they usually tend to end badly.
More Poker Games