Poker Tournaments FAQs
Our poker tournaments FAQs are designed to help New Zealanders that are new to online poker tournaments. The format of hosting poker tournaments has come a long way, marking itself as a popular sport that's broadcast on sports channels. It's made many poker players millionaires and celebrities in the gambling arena.
With the rise of the popularity of gambling online, so has the popularity of poker online risen as well. Now there are hundreds of poker tournaments being played online that are open to Kiwi poker fans. However, a poker tournament has its differences when compared to a traditional digital poker casino game or a live dealer round. So, in our poker tournaments FAQs guide, we aim to answer all the commonly asked questions about playing poker tournament-style. Additionally, we'll take a look at the different tournament formats and types of tournaments online. Furthermore, we'll also recommend the best poker tournaments that accept NZ dollars. Read on for our comprehensive poker tournaments FAQs.
Best Online Poker Sites New Zealand 2019
Poker Tournaments FAQs
Although the poker tournament is based on the internet, there are some similarities (and differences) to the real deal. Let's answer some of your burning poker tournaments FAQs.
What is a poker tournament?
A poker tournament is when players compete in a game of poker. The aim is for there to be only one remaining player who still has all their chips, while the other players have been knocked out. To be able to play, each NZ poker player must pay a buy-in. This buy-in makes up the pot the winning player takes home.
How do poker tournaments online work?
Much like in its real life variant, players have to buy chips that have a NZ$ value amount in the online version. Players have to buy a stack of chips at a set price which is usually between 1500 and 3000 chips.
They then play with the chips until they're gone which means they're eliminated from the tournament.
Once all the chips have been played, the player with remaining chips wins the tournament.
Furthermore, to control the game length, betting levels are increased with each round, forcing the poker tournament players to play their hands before their chip stack disappears due to the forced bets of antes and blind bets.
Finally, in terms of payout of winnings, around 10% to 15% of the pot gets paid to the last remaining players at the final table, with the largest share going to the winner.
What are the different types of poker tournaments available online?
There are ways a poker tournament online can differ from another. These differences can be in the betting, game type, price, and speed. Online poker tournaments come in these various formats:
Freezeout: This is the standard version that NZ poker players will find at the majority of best online poker sites. Here, you get a stack of chips for your buy-in. These vary from 1500 to 3000. If these run out, you are out.
Knockout Bounty: This is a standard tournament game with a twist. There's a 20% to 25% proposition of each player's buy-in that's set aside as a bounty to be paid to the person that knocks out another player. The bounty is awarded instantly.
Rebuy: During a defined period, players can buy back more chips. At online tournaments, the rebuy period is generally during the first hour of the game. It's a golden opportunity for players that are at or below their set chip stack amount.
Satellite: In this type, the prize is a seat at an even more prestigious poker tournament table online. Get to play at the European Poker Tour or the World Series. This popular format comes in various formats focussing on speed, game play, and betting.
Sit and Go: Also known as an SNG tournament, these start as soon as the table is full. The more popular SNG online tournaments are the: 1 table (max nine players); 2 tables; 5 tables; 10 tables; and 20 table with 180 players. Because they take far less time, the smaller field ones tend to be more popular especially for beginners.
Turbo/Speed: Different sites may use different names but there's one thing in common – speed. What makes this format faster than others is that the faster increases in betting levels forces players to play more hands to avoid falling behind.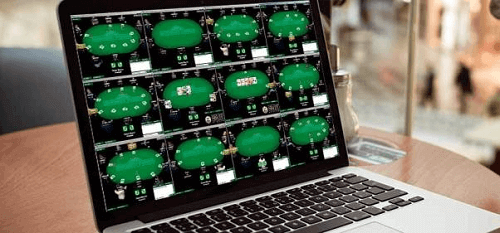 Where can I play poker tournaments online?
It is common to find this question in poker tournaments FAQs. NZ casino sites that are worth your while will have poker tournaments available for Kiwis to enter. You'll also find them at the best online poker sites for New Zealanders like Poker Stars. Additionally, you can find them at our top recommended casino sites above.
How is a poker tournament different from a real money cash game?
There are several differences between a tournament and an online poker real money game.
In a tournament, chips don't represent cash, instead function as a way for keeping score.
While in cash poker games, the blinds and antes don't change throughout the game. Whereas in poker tournaments, they increase throughout the game.
Lastly, the way winnings are paid out is different. In a real money poker game, you keep whatever you leave on the table. However, in a tournament, winnings are regulated by when you're knocked out, and the final 10% of players get a dividend of the pool prize while the winner gets the most.
How many players are usually at a best poker site table?
This number is different across casino sites with the main determining feature being buy-in level and time of day. The most popular times are in EU evenings and weekends, and buy-in levels are at NZ$11 at some of the bigger poker sites. This often attracts over 3000 players. As mentioned, a single table can hold a max nine players. So, it also depends on how many virtual tables a site has.
What are the risks and rewards that come with playing poker tournaments?
The risks one faces at poker tournaments is that you can lose your buy-in money. Players also need to remember to practice strict bankroll management. Pro poker players will only spend no more than 1% of their bankroll in a tournament.
Moreover, the rewards one can get in a poker tournament are twofold: there are the short-term wins and secondly, the average returns over hundreds or even thousands of games. Poker tournaments online have huge wins for players.
What are the best online poker tournaments for New Zealand players?
One of the best sites for playing poker tournaments is Pokerstars.com. It's the biggest and best poker site online with thousands of tournaments happening every day. They also have annual events that have garnered international acclaim. The major tournaments you'll find at this site include:
World Championship of Online Poker (WCOOP)
Spring Championship of Online Poker (SCOOP)
MicroMillions
Turbo Series
The only down side is that the tables can be pretty huge and therefor intimidating. They can gather more than 3000 players at an average tournament.
We hope that our poker tournaments FAQs page has helped you with your queries. For more on poker online, check out our guides below: